UCO Bank HRMS: Login, Download Employee Salary Slip
The United Commercial Bank Ltd or UCO Bank is one of the most trusted banks in India. All the banks in India deserve credit for keeping up with the new digital era. Since everything is going online these days, banking services must be online for ease for every customer. And thankfully, UCO Bank is one of those banks that adapted to this change fairly quickly.
Take the UCO Bank's human resource management system, they've implemented it to make the management tasks much easier for their staff members or employees. As an employee at UCO bank, you can perform various self-service tasks through the HRMS online portal. But still, there are many people having issues while logging into their UCO Bank HRMS, we'll try to simplify that for you. Along with that, we'll be going over how you can download the employee salary slips the easy way. Let's dive into it then.
How To Log In Into UCO Bank HRMS?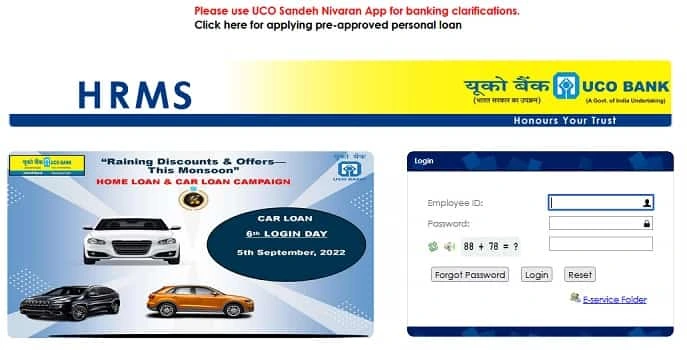 The process of UCO Bank HRMS Login is pretty straightforward, but if you're facing any kind of technical issue when logging into your account, don't you worry now, we're here to help. Let's talk about how you can actually login into your UCO Bank HRMS account.
First things first, you must visit the official website of UCO Banks' HRMS portal. Which is https://hrms.ucoonline.in/login.action
When the page loads, you'll see the login form right in front of you. Just enter the Employee ID and password in order to log in. If you have forgotten your password, in that case you can use the Forgot Password option given on the same web page.
After entering the login credentials, simply solve the captcha and hit the Login button, that's it. Now you'll be redirected to your profile page or HRMS dashboard where you can access all the ESS or Employee Self-Service options.
Note: There's just one thing to keep in mind, which is finding or visiting the correct URL of the UCO Bank HRMS Portal. This online portal has a different URL than the actual UCO bank's website. By doing so, you can ensure that you won't fall for any fishing attack where anyone else can get your login credential if you don't pay attention.
How To Download Employee Salary Slips In UCO Bank HRMS?
If you want to get your hands on your old salary slips then it is a time-consuming task if you do that the manual way by visiting the branch. For the employees, the UCO Bank HRMS has made it super easy to download salary slips for any month they want. Let's get down to the steps of how to download employee salary slips in UCO Bank HRMS.
As emphasized earlier, visit the official website or URL of the UCO Bank HRMS, which is https://hrms.ucoonline.in/login.action, and log in by entering the login credentials.
When you are on the dashboard, you'll be able to access all the ESS options, and downloading salary slips is one of those useful options.
You can find the Download Salary Slips option on the header of the dashboard itself. Just click on it and you'll land on another page of this portal.
On the next page, there will be your current or recent month's earnings details. With the drop-down menu, you can select which month's salary details you want. Once the details load, just click the "Download Slip" option, and all the details will be downloaded as a PDF document on your device.
When you download the employee salary slips from UCO Bank HRMS, you'll have the total breakdown of your salary listed on the slip itself. For example, the basic/minimum salary, allowances, voucher earnings, and all other benefits will be included in your salary slips, which can be helpful in some scenarios.
Final Thoughts
Alright, we've shared all the necessary steps of logging into the HRSM portal of UCO Bank as well as how you can successfully download the salary slips of previous months to your device. If there's any change in the future related to the salary slips download process, we'll try our best to keep you updated with the method.