HRMS Telangana: HRMS Login, Download Employee Details
State governments have been using human resource management systems quite well recently. For example, the Telangana government has come up with HRMS Telangana for the state police department. Before this implementation or adaptation, for the simplest tasks, the police department of Telangana was dependent on paperwork, and that was a time-consuming thing.
The Employee self-service (ESS) feature of this e-governance portal is the best thing. But since it's a new portal, many staff members don't know how to actually use it properly, therefore we're here to help you out with that. In today's post, we will be going over how to log into HRMS Telangana properly, and how you can download and get your hands on employee details without visiting any physical branch. So let's get going.
How To Login into HRMS Telangana Properly?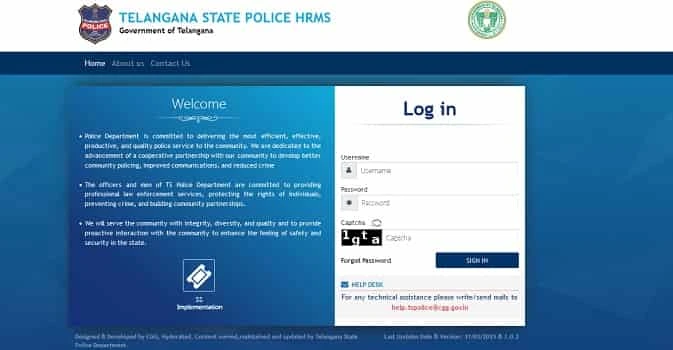 Since the adaptation of such online portals is very new, people often get confused when logging into their accounts. If you're also having the same issue then make sure to go through this section of our post. Let's talk about every step that you need to know in order to successfully login into your account and access HRMS Telangana's features.
Here we will be talking about the login process for staff members, but the process for citizens is pretty similar. Just visit this page http://www.tspolice.gov.in/ and there will be a login button at the top right side of the screen. Simply enter the login credentials in order to login into your account.
First things first, visit the official HRMS Telangana website. Which is https://tspolice.cgg.gov.in/
Now, when you're on the homepage, you'll see the welcome message and a few details. There will be a Login form on the right-hand side. Just enter the required details such as username, and password. In case you forgot your password, then you can easily recover it by choosing the "Forgot Password" option. You'll get an OTP on your registered mobile number and email address, enter the correct OTP and you'll be able to reset your password quite easily.
Fill out the captcha, and hit the Sign In button, that's it, now you'll be redirected to your profile page or dashboard page.
If you are still facing any technical difficulties when trying to login into your account then we suggest contacting the HRMS Telangana assistance team. You can send them an email at help.tspolice@cgg.gov.in describing the issue you are facing.
Note: When logging into any important website where your personal and professional details can easily be accessed, make sure you're logging into the official portal or website. There are many cases where people get scammed because they logged into a wrong or similar-looking website and now the scammer has their login credentials. In such a case, just reset your password and you'll be good for the most part.
How To Download Employee Details Using HRMS Telangana?
Getting your hands on employee details using HRMS Telangana has become super easy. But still, many people are complaining about technical issues. The main issue is with the actual URL of the page which allows you to get all the data related to employees. Let's get down to it, and talk about each step one by one.
First of all, make sure you are visiting the official web page launched by HRMS Telangana. There are many people trying the fishing attack on government websites like this, so be careful. The official webpage is https://tshrms.cgg.gov.in/DownloadEmpDetails
When the page loads, you'll be asked to fill out a few pieces of information about the employee, like employee ID number, name, date of birth, etc.
Once you fill out all the information, there will be a button at the end of this form that says "Get Data." Hit this button in order to download the employee details.
After all that, you'll have a PDF document containing all the employee details. If the portal directs you to a new window where it loads the PDF document in the browser, then just right-click and save it as a PDF, or there will be an option to download it directly.
Final Thoughts
Alright, we've tried our best to cover all the steps so you don't have any issues when logging into HRMS Telangana online portal, and downloading the employee details all by yourself. If there will be any changes or updates with the URL or the process of employee details downloading then we will keep you posted.