FCI HRMS: Login, Download Employee Salary Slip, Apply Leave
The human resource management system used by the Food Corporation of India has made its employees' life so much easier. First of all, there's no need for all the paperwork that was used in the overall management. Now you have an online portal, where you can access all the services on one dashboard. Isn't it awesome? And the most important thing about FCI HRMS is that it saves a lot of time for employees, and that time can now be utilized for further development and growth of FCI.
But it's a new platform, and many employees don't know how to actually use it. For example, you may have issues when logging in, checking your profile status, gathering information, downloading salary slips, applying for leave, etc. Don't you worry now, we're here to save your day. Below we'll be going over a few things you might be having issues with when using FCI HRMS. Let's get going then.
How To Login To Your FCI HRMS Dashboard?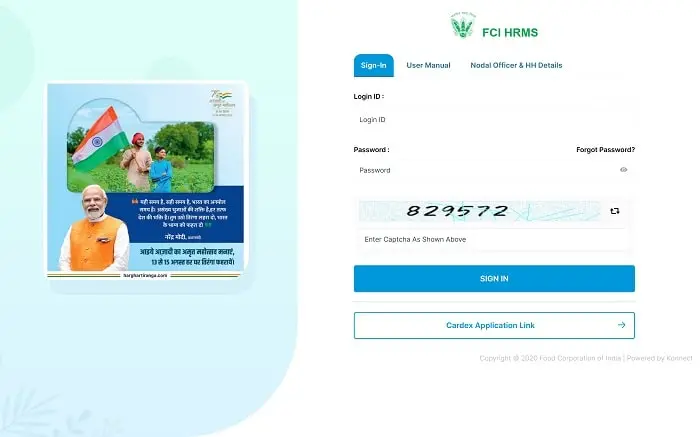 The login process is pretty straightforward here, but let's go over it so you don't have any issues. And the same process is when you are using FCI HRMS mobile app.
First of all, visit the official website of FCI HRMS, which is

https://www.hrmsfci.in/

You'll land on the homepage of FCI HRMS, you'll need to enter login details in order to access your FCI dashboard. The first box is where you need to fill in the Login ID, which is your employee ID or number.
Next up, you need to enter the password, if you've forgotten your password, there's an option to reset it if you have or remember your Login ID.
Now, just fill up the captcha box, and hit the Sign In button, that's it.
After you hit the Sign In button, you'll be redirected to your FCI HRMS dashboard. There will be all sorts of options like Dashboard, Attendance, Leave, Reimbursement, Connect, Training, and many more.
How To Download Employee Salary Slips In FCI HRMS?
Downloading and accessing employee salary slips has been made super easy by this latest human resource management system. Now you don't need to visit any physical branch in order to get your hands on your previous salary slips and all the salary-related details. Let's talk about where is the option to download employee salary slips is in FCI HRMS.
On the upper right-hand side, you'll see an option called ESS or ESS Dashboard. Click on it and find the option called "Salary."
On the next screen, you'll be able to see all the salary details for the recent months. And there will be a tab for benefits as well.
From the month selection drop-down, select the preferred month, and once you do that, the salary details or earning details of that particular month will be shown on the screen.
Choose which month of salary slip you want to download, and click the button or option on the upper right-hand side that says "Download Slip" to download all the details as a PDF document.
In this downloaded salary slip, all the information is included such as different allowances, benefits, vouchers, and basic earnings.
How To Apply For Leave In FCI HRMS Portal?
FCI HRMS made it much easier for an employee to perform tasks like checking absent details, appointment details, getting information and news from the FCI and taking leaves. Especially, when you want to take a leave, you can apply for the leave without going to the nearest FCI branch or calling your managing officer. Let's talk about how you can do that.
First of all, go to the official website of FCI HRSM or open their mobile app.
Sign in with your login credential and access your dashboard.
After logging in, on the screen you'll see various options like Dashboard, Attendance, Leave, Reimbursement, Connect, Training, Leaves, etc. Just select the Leave option from the homepage.
You'll then land on the next page, where several options will be shown on the screen like Leave station intimation, Leave balance, My attendance, Attendance regularization, Employee calendar, Pre-approval for work on a holiday, Apply for leave, and a few more. Simply click on the Apply For Leave option.
A leave application form will load on the screen, fill it up with all the required details or information and submit it. Most importantly select what type of leave you want in the category option. It can be a casual leave, restricted holiday, compensatory leave, paternity leave, child care leave, or anything like that.
That's it, now your application will be reviewed and approved. You can check your available leaves or other information in the "Leave Balance" option.
Final Thoughts
Alright, we've shared all the steps to logging in, downloading employee salary slips, and also how you can apply for a leave. Now it is your turn, to see whether you can log in, and access your earning details or not.