HRMS Assam: Login, Teachers Online Transfer & Posting
The offline process of teacher transfer all over India is very time-consuming and tiring. Therefore, state governments have been using human resource management systems to automate or digitalize the whole process. Take the HRMS Assam for example, they've released their Teacher Transfer Management Portal recently, and all the government teachers have been advised to submit their documents for this online transformation of the old management system.
Since it's a new portal, therefore many teachers don't know how to use it properly. They're facing issues like how to log in properly, how to submit the transfer or posting requests, etc. But don't you worry now, we'll be going over that one by one. So stay tuned till the end.
How To Login With HRMS Assam Portal?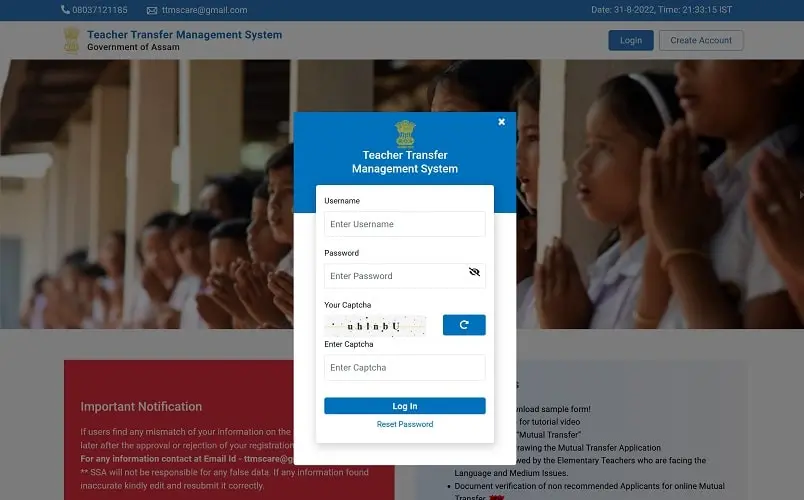 The login process is very easy with HRMS Assam online portal, you won't have any issues while doing so. But still, let's get down to it and talk about the important steps.
First things first, visit HRMS Assam's official website, which is

https://hrmsassam.in/

Once you're on the homepage, you'll be able to see all the details and other information regarding the HRMS project of the Assam government. In order to log in, find the Login button on the top right side of the screen.
A pop-up will appear on the screen where you'll be asked to enter login credentials such as username and password. If you haven't created an account yet, then you won't have the login details, so make sure to register with the HRSM Assam portal first.
Just enter the username, and password and fill out the captcha box, then hit the Login button.
When the next screen loads, you'll be asked to fill out a bunch of personal and professional details for verification. Once you do that, you can easily request a transfer or new posting.
How To Submit The Teacher Online Transfer Or Posting Request?
When applying for a transfer or new posting request through this online portal, there are so many things you need to keep in mind. If you make any error or mistake while filling out the information, then your application may get rejected and you'll have to wait a little longer.
Earlier, we covered the login process, when you are logging in for the first time, there will be a bunch of information you'll be asked to submit in order to successfully get a transfer from one location to another.
There will be around 11 steps to fill out all the necessary information. We're listing all the details you'll be required to submit or enter. So make sure to have all the details, and documents by your side when filling out this form.
Details Or Information You'll Be Asked To Submit:
School details (Elementary/ Secondary)
Personal Details
Professional & Other Qualification
Academic Qualification
Salary Accounts & Other Official Account Details
Service Records
Service Details
Award Received
Promotion Details
Supporting Documents
Documents You'll Be Asked To Submit/Attach:
Appointment Letter
El Ed. or B. Ed Mark sheet
HSLC Mark sheet
HSSLC Mark sheet
Graduation Mark sheet
TET Mark Sheet cum Certificate
Post Graduation Mark sheet
Proof of Date of Birth
Cast Certificate
Passport Sized Photograph
Scanned Signature or Thumb Prints
There is a limit on file size when submitting or attaching the documents with your application. The digital file size requirement may vary anywhere between 50kb to 300kb. With each document submission box, there will be mentioned the required or recommended file size. So keep an eye on that.
Once you fill out all the details and submit the application, your transfer request will be sent. And the request or application will be checked by the officials of this government organization. If you have provided the correct details and submitted authentic documents, then your request will be approved. You'll get the notification on your mobile number or email id used during the process. You can also keep track of the status of your application by logging into HRMS Assam. Overall the process is simple if you have all the documents by your side.
Final Thoughts
State governments have been using HRMS to improve the sectors where the employees or teachers are facing too many issues for tasks like location transfer. We've shared all the details regarding the teacher online transfer and new posting, if there will be any update in the process, we'll keep you posted.