Muthoot HRMS: Login Muthoot Finance Employee Portal
Since the employee base of Muthoot finance group has surpassed the 40 thousand mark, there must be some system in place to manage all the employees and provide time and paperwork-saving facilities. Thus, Muthoot HRMS emerged as an option. Now, a lot of tasks are simplified and digitalized for employees. The sole goal of the Muthoot finance group was to provide a human resource management system to increase productivity and utilize the time that employees used to spend on the simplest self-service tasks.
However, this system-in-place is quite new for many employees, thus they have difficulties not just using the features of the Muthoot HRMS portal, but some are not able to log in properly. And today's post is going to be all about that, we will be going over how to login into the Muthoot finance employee portal, and how to use the Employee Self Service or ESS features. Let's begin.
Step-By-Step Muthoot HRMS Employee Login Process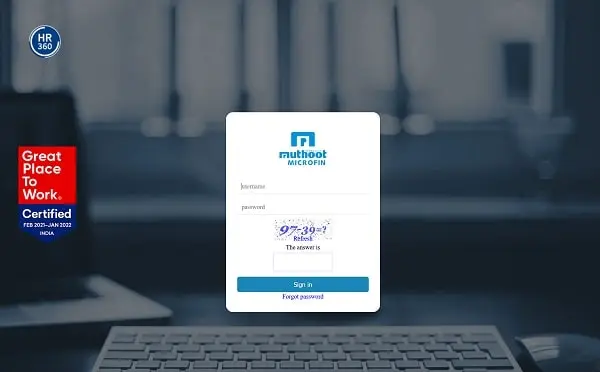 Logging into Muthoot HRMS and accessing the employee self-service features is just a piece of cake. Follow the steps given below, and you won't have any issues accessing your profile on the HRMS portal.
First things first, you must visit the official webpage of the Muthoot HRMS portal. When you Google the term "Muthoot HRMS" a bunch of search results comes right up, and that can be confusing for you. Or just click on this link

https://hrms.muthootmicrofin.com/

to land on the official login webpage.
On the login page, there's nothing but a login form with three input boxes. Enter the employee ID and password in their respective input boxes. Usually, the Muthoot finance group provides the login credentials for the HRMS portal to every employee. But in case you haven't got your ID and password for the portal, then you should ask for it.
Anyway, if you have the login credentials, just enter them, and fill out the simple captcha box. Now simply hit the "Sign In" button.
That'll do it. Now you will be able to access your dashboard and all the ESS features.
Note: As an employee at a finance group, you have a responsibility to keep your login credentials safe. But if you search for the login page on Google every time you have to access the Muthoot HRMS Portal, then chances are you might get scammed. There are a number of websites ranking higher up in the search results for the keyword "Muthoot HRMS" to trick people to enter their login credentials to these websites. Therefore, always pay attention to the website URL you are visiting.
What If You Forgot Your Muthoot HRMS Login Password?
If you have forgotten your Muthoot HRMS Login password, then don't worry, there's an option to reset and create a new password within a few minutes only. Let's get down to how you can do that.
When you are on the official login page of the Muthoot HRMS, there will be an option such as "Forgot Password" just below the Sign In button.
By clicking on that option you will land on another page where you'll see two input boxes and a button, that's it.
Enter the employee ID in the first input box, and your date of birth in the second one. After that simply press the "Proceed" button.
Now a link will be sent to the email id associated with your Muthoot HRMS account. In that email, you'll have the link to reset or create a new password.
ESS or Employee Self Services Offered By Muthoot HRMS
The prime reason why Muthoot finance group came up with the HRMS portal is to increase productivity among all the employees. With the HRMS portal, now employees don't need to ask the management for the salary slips, they can log in to their dashboard and download the salary slips directly from there. Not just that, but things like applying for leave have become super easy for employees now. They can even schedule their leaves as well. Along with that, things like downloading holiday calendars, checking stats of payments, and getting exclusive information have become super easy for Muthoot finance employees. And the Muthoot finance group has been paying a lot of attention to making the overall experience of their HRMS portal more seamless and easy to use for their employees.