PNB Parivar: HRMS Login, Download Employee Salary Slips, Pension Portal
Human resource management systems or HRMS are quite helpful not just for the staff members/employees of the organization but also for the general population. Take PNB Parivar HRMS as an example, it is made available for people to allow them some self-service options. As you may already know PNB (Punjab National Bank) is one of the most renowned banks in India that provides banking and financial services to millions of people all across India.
And the network of PNB is considerably large in India, that's the reason they have implemented the human resource management system to serve this overwhelming number. And in today's post, we'll be going over a few things about the PNB Parivar online portal, such as how to log in properly, how to download employee salary slips, and other details about the pension portal. So, stay tuned for that.
How To Log In Into PNB Parivar Portal/HRMS?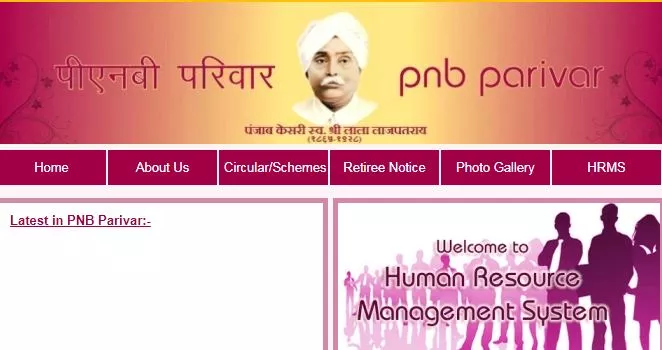 There are many benefits of using the PNB HRMS portal, such as retired employees can check pension details, you can apply for loans and check loan application status, check monthly and annual pay slips, employees can nominate a member in PF, etc. But to access these features, you must first know how to log into your account in the PNB Parivar portal.
Since such HRMS portals are the latest implementations, that's why the majority population doesn't know how to use such portals properly. Let's have a look at the process of logging into your PNB Parivar account.
First thing first, visit the official web page of PNB Parivar Portal. Click this link

https://www.pnbnet.net.in

to directly go to the portal.
When you land on the homepage of PNB Parivar Portal, there will be a few options in the main menu. See on the right-hand side, right next to the contact us, you'll find the "HRMS" option. Click on it to access the HRMS services offered by Punjab National Bank.
Now you will be redirected to the PNB HRMS web page. On this page, you'll see just the login form and no other options.
Just fill out the User ID, and Password provided by PNB, and after entering the captcha, simply click on the Sign In button. That's it. Now you'll be able to access all the services and features of the PNB HRMS portal.
If you have forgotten your password, then there's an option to reset it. You'll require your email id and mobile number associated with your PNB HRMS account.
How To Download Employee Salary Slips In PNB HRMS?
The PNB HRMS portal has made it much easier for employees to get their hands on old and current salary slips without visiting the branch. Let's get down to the nitty-gritty of how you can download employee salary slips using PNB HRMS.
First of all, as mentioned in the previous section, login into your PNB HRMS account.
And once you are on the dashboard, at the top right-hand side, there will be an option named "ESS" or "Employee Self Service." Click on it to reveal other options in the drop-down menu.
Find the option "Salary & TDS related details" and click on it to access salary details.
On the next page, there will be an option as "PNB Salary Slip" click on it, and it'll ask you to enter the employee ID in order to see salary slips.
This is how you can access your previous and current month's salary slips using PNB HRMS. There will be an option to save your salary slips in PDF format as well.
How To Access PNB Parivar Pension Portal?
Using the PNB Parivar HRMS, you can check your pension status and other details. Because of the implementation of the HRMS portal you don't need to visit the nearest branch every time you want to check your pension status.
Visit the PNB Parivar web portal by clicking on this link

https://www.pnbnet.net.in

Now, select the HRMS option from the main menu, and it'll direct you to the HRMS login page.
On the login page, there will be a login form, for the User ID, you can use your PF number. And the password will be your date of birth like "DDMMYYYY." And proceed next by clicking on the Sign In button.
Once you are on the dashboard, select the Pension-related options from the "ESS" or "Employee Self Service" drop-down menu.
Note: Pay attention to the URL of the PNB Parivar web portal, there could be similar-looking fake websites and by entering your login credentials to such fake websites you might put your PNB Parivar web portal account at risk. Therefore, visit the official URL that we have provided a few times in this post.
Final Thoughts
PNB HRMS portal is a one-stop solution for employees to access many details and perform various self-service tasks without even visiting the branch. And we have tried our best to explain how to log in properly, download salary slips, and access pension details using PNB HRMS.