Mahabhulekh Pune 7/12 Utara, 8A & Property Card Details
One of the six districts that Maharashtra is divided into is Pune. The Pune district consists of cities like Pune, Satara, Sangli, Solapur and Kolhapur. These districts fall under Pune district as per the Mahabhulekh Pune Portal. If you are planning to purchase property in any of these districts then you can go ahead and check the land records with help of the Mahabhulekh Portal.
In this article, we have listed the steps to check the land records and at the same time, we have also listed the information that is available via this portal.
What details can be checked with 7/12 Utara Online Records?
This step was taken by the Maharashtra government to mitigate the risk that the buyer faces while investing in real estate. With help of this project, all the land records were made available online for the people so that they can check the details before they plan to make a purchase. The details that you can check with help of the portal are
Name of the Property Owner

Area of Property and Category of Property

Complete address of the Property

Active Loans on the Property if there are any.
This is all the information that you can find on the Mahabhulekh Portal. Now, let us look at the steps involved in checking the property records.
How to Check Mahabhulekh Pune 7/12 Utara?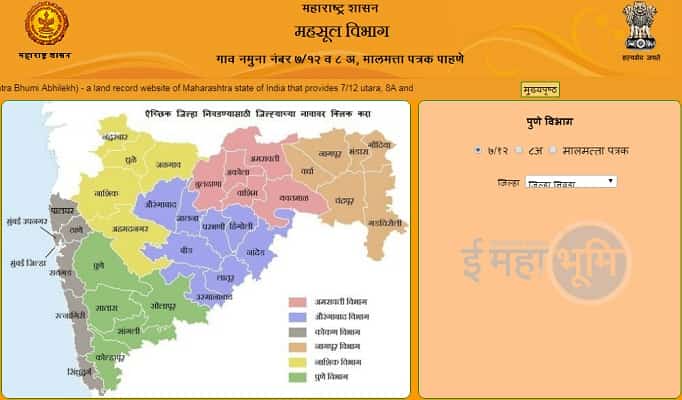 and on the website, you need to select Pune District to check the land records in Pune

On the next page, enter the sub-district under Pune district and also enter the Tehsil and Village. You will now be able to enter the search details

You can search records using different criteria and these include Survey Number, Akshari Number or the Name of the property owners.

You can now filer the results from the list of properties displayed. This will help you in choosing the property records that you are looking for.
This way, you will now have the property land records displayed on the screen and at the same time, you can also print the details from the PDF File.
You will get to know if you are dealing with the right owner and if the papers of the property are correct. If you notice that there is an active loan on the property then you must review the deal once again.