Mahabhulekh Nagpur 7/12 Utara, 8A & Property Card Details
Nagpur is the third largest city in Maharashtra but if we talk about district Nagpur, Mahabhulekh includes many other cities under the district Nagpur. Nagpur is developing at a very fast pace and it is also popular for Oranges. If you are planning to invest money somewhere in Maharashtra then Nagpur can be an attractive option.
You can also invest money in a farm where you can enjoy oranges and the best part is that the land will generate income for you without leaving carbon footprints. You can also invest in residential properties but the only thing that you need to take care of is that you should not find yourself in middle of a shady deal.
To avoid this, you can check the land records with help of Mahabhulekh Portal that is made available for people. Earlier, this portal was not available and people had to visit the government office to check the details but all this has been changed. In this article, we have listed the process to check Mahabhulekh Nagpur 7/12 Utara.
Information available via Mahabhulekh 7/12 Utara
Talking about the information that is available via Mahabhulekh Portal, you can find the following details
Owner of the Property

Type of Property and Area of Property

Loan against property (if any)

Survey Number of Property
These details can help you in verifying the details of the property that are shared with you. This promotes a lot of transparency in the process and it is certainly the need of the hour as you can save yourself from a potential fraud in such a case.
The process to Check Mahabhulekh Nagpur 7/12 Utara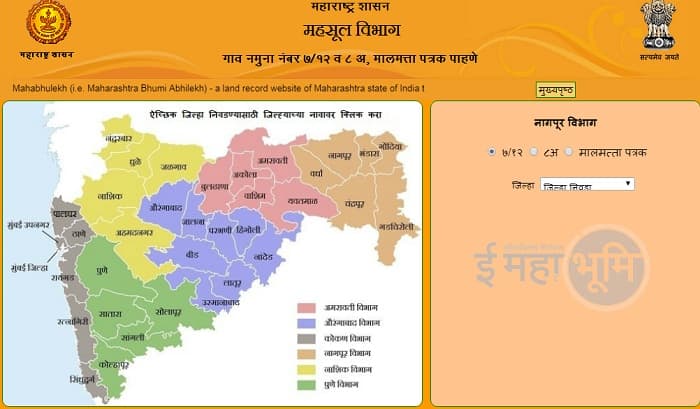 and on this page, you can select Nagpur on the right side in the selection menu.

This will take you to a sub-page of the website which is to check the property records in Nagpur District. Once you are on the page, enter the details of the sub-district, tehsil and village.

You will now be able to enter the search criteria to search the details of the property. Once the details are visible, you can then print the land records and check the authenticity of the deal.
This was the complete process to check 7/12 Utara and in case of any issues, you can even contact the district office in your area.