List Of Top EPC Companies In Mumbai
EPC, short for Engineering, Procurement, and Construction, refers to companies that offer a comprehensive package of services covering these three areas. Interestingly, Mumbai, the financial capital of India, is home to some of the top EPC companies in the country.
In this post, we will take a closer look at this industry and highlight the key players that are driving growth and leading the way. Whether you're looking for a trustworthy and dependable EPC company or seeking valuable insights into this industry, you've come to the right place. So without further ado, let's dive into the list.
List of Best EPC Companies In Mumbai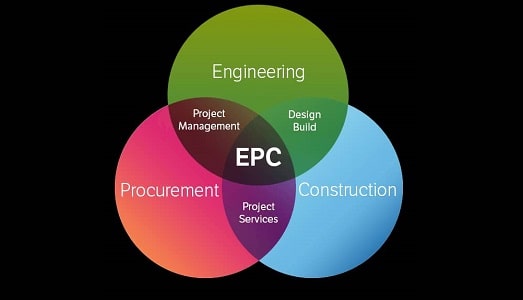 1. Tata Projects Limited
Tata Projects Limited, a subsidiary of the Tata Group established in 1979, is renowned for its ability to successfully deliver large and complex infrastructure projects, making it a popular choice for clients worldwide. Tata Projects prides itself on its excellence in engineering solutions, supply chain expertise, and of course construction management, which are its key strengths. The company is dedicated to delivering projects on time using world-class project management techniques with an unwavering focus on safety and sustainability. With a workforce of more than 2,700 employees, Tata Projects serves 85 countries across the globe, establishing itself as a significant player in the EPC industry.
2. Hindustan Construction Company Limited (HCC)
Moving on to the next company on our list, we have Hindustan Construction Company (HCC), a prominent Mumbai-based EPC (Engineering, Procurement, and Construction) company that has been serving in the industry for almost a century. With its inception in 1926 by Seth Walchand Hirachand, HCC has gained recognition for its proficiency in executing large-scale engineering and infrastructure projects, such as atomic energy plants, hydel power plants, highways, bridges, and tunnels. The company has received several accolades for its quality, environmental, and safety management systems, and notably, it was the first construction company in India to be certified with ISO 9001 and ISO 14001 certifications.
3. Larsen & Toubro
Larsen & Toubro, also known as L&T, is a renowned multinational conglomerate that operates from India. It has established itself as a top-tier engineering, procurement, and construction (EPC) company, consistently ranked among the top 10 in Mumbai. L&T provides a comprehensive range of services that include engineering, construction, power generation, and financial services. The company boasts a commendable track record of successfully delivering several projects in the EPC domains. L&T's commitment to delivering quality services is only matched by its drive to make a positive impact on society. A prime example of this is the Ram Mandir project in Ayodhya, which the company is executing free of charge, showcasing its strong social responsibility ethos.
4. Gammon India
Gammon India, established in 1922 by John C. Gammon, is a renowned civil engineering construction company in India that has been able to maintain its position as a leading player in the industry despite facing tough competition. The company has an impressive track record of completing challenging engineering and construction projects, including constructing the highest number of bridges in the commonwealth. Gammon India's projects are not only grand in scale but also have a positive impact on economies and significantly contribute to enhancing the quality of life for millions of people. With such a remarkable history, the company displays great potential for even more success in the future.
5. IRB Infrastructure
IRB Infrastructure Developers Limited is a toll road production and EPC company based in Mumbai, Maharashtra, India. Since its inception in 1998, IRB Infrastructure has become one of the largest operators of Build-Operate-Transfer projects in India. The company has a vast portfolio of projects, including the Mumbai Pune Expressway and the Ahmedabad Vadodara Expressway. IRB Infrastructure acquired MVR Infrastructure and Tollways for ₹130 crores in 2012, which further strengthened its position in the industry. The company also won the contract for the Ganga Expressway, the longest under-construction expressway in Uttar Pradesh. IRB Infrastructure has been in the industry for over 80 years, providing exceptional services in road engineering and construction.
6. Patel Engineering Limited
The final company on our list is Patel Engineering, an EPC company based in Mumbai that has been providing top-notch infrastructure and construction services since 1949. The company boasts an extensive portfolio of successfully completed projects across India and abroad, showcasing its vast experience across all sectors of the infrastructure industry. Every project undertaken by Patel Engineering is managed by a team of highly skilled personnel who bring together the expertise of diverse specialists to ensure that each project is executed flawlessly from beginning to end. Patel Engineering's unwavering commitment to quality, safety, health, and the environment has earned the company the coveted IMS Certificates from the UK-based BSI, highlighting the company's high standards and reputation for excellence.
Conclusion
That'll do it. Now you know which are the key players in the EPC industry of India, leading the pack and driving economic growth in the country. If you are someone looking forward to investing in any of these EPC companies, we'd advise you to dig a little deeper and find out more about the company before investing your hard-earned money.