10 Low Cost Franchise In India Under 10 Lakhs Rs.
The franchise business model has taken off in India in recent years, offering individuals like you the chance to take control of your own destiny and build a successful business. What's so great about franchising, you may ask? For starters, it's a low-risk, high-reward approach to business ownership. With a minimal investment, you gain access to an established business model, brand recognition, marketing support, training, and ongoing guidance and support from the franchisor. You don't need to start from scratch, either! Franchising provides a turnkey solution that lets you hit the ground running and focus on building your business.
Whether you're a food lover, a tech whiz, or a wellness enthusiast, there's a franchise opportunity out there for everyone. In this article, we'll be exploring the 10 Best Franchises in India under 10 lakhs for 2023. We've done the research so you don't have to, and we can't wait to share with you some of the most exciting and profitable franchise opportunities available in India.
List of Low Budget Franchise Under 10 Lakh Rs. in India
Let's get started now.
1. G-Fresh Mart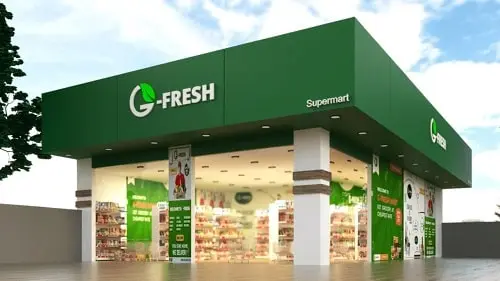 G Fresh Mart started its franchise journey in 2020, offers consultancy for grocery marts, and provides doorstep delivery of over 22,000 products from more than 1,200 brands, including groceries, personal care products, soft drinks, and ready-to-eat food, among others. With area requirements ranging from 600 sq. ft. to 10,000 sq. ft., G Fresh Mart offers a franchise model that is adaptable to various business needs. G Fresh Mart provides detailed operation manuals and processes, sales and marketing support, and technical and operational support. The brand's team of experts will ensure you have everything you need to run a successful business. The initial investment required to open a G Fresh Mart franchise ranges from Rs. 5 lakhs to Rs 10 lakhs, with an expected ROI of 35-40% after three months of sale.
2. Chai Sutta Bar
Are you thinking about starting your own Chai Sutta Bar franchise? Well, there are a few important things you should know. First of all, you'll need to make an initial investment of ₹6-8 lakhs for a kiosk, or ₹16-20 lakhs for a medium-sized outlet. But don't worry, even if you don't have much experience in the food services industry, the franchisor will provide support and training to help you get started. When it comes to location, you'll want to find a commercial area with high foot traffic, close to transportation and educational institutions or shopping centers. And when it comes to profits, you can expect to earn around ₹90,000 per month, with a payback period of 15 months.
3. KidZEE
Kidzee is a preschool chain that has become quite popular in India with over 750 schools and 1900 centers in the country. They provide three different programs for kids from 1.5 to 5.5 years old which is quite unique. The best thing about owning a Kidzee franchise is that you don't have to pay any royalty fees, and you can get a return on investment of up to 200%. If you want to apply for a Kidzee franchise, you can visit their website and fill out the application form. Just remember that you'll need an area of 2000-3000 sq. feet, and the initial investment is around 10 to 12 lakh rupees.
4. Amul
If you're considering starting a franchise business in India, an Amul store franchise could be a great investment. Unlike other franchises, Amul doesn't require its franchisees to pay royalties, which means higher profits for the store owner. Depending on the product, profit margins can range from 20% for ice cream to up to 50% for bakery items like pizza and chocolates. The cost of starting an Amul franchise varies depending on the outlet. A security deposit ranging from ₹25,000 to ₹1,00,000 and equipment cost between ₹50,000 to ₹1.5 lakhs are required. The profitability of an Amul store franchise ranges between ₹6 lakhs to ₹10 lakhs.
5. Apollo Pharmacy
Apollo Pharmacy, owned by Apollo Hospitals, is India's leading branded pharmacy chain. It's a fantastic opportunity for people who want to enter the pharmaceutical industry with a profitable business. To become a franchisee of Apollo Pharmacy, you will need to make a minimum investment of 10 lakhs rupees as a token investment, and you also need to pay a one-time registration cost. The pharmacy requires a minimum space of 120 to 150 square feet, and a megastore would require a minimum of 200 square feet. Apollo Pharmacy offers a renewable franchise opportunity, and the working staff, which includes one pharmacist and two staffers, can earn an average of INR 65,000 per month by providing round-the-clock services.
6. Lassi Day Cafe
With more than 100 outlets across the country, including dozens in South India, Lassi Day Cafe is one of the most successful and rising franchises in India. What makes Lassi Day Cafe stand out is its fresh, healthy, and authentically made Lassis, and other beverages, as well as its affordable range of snacks. As a Lassi Day Cafe franchise partner, you could earn up to 6 lakhs rupees in monthly sales with a profit margin of 30%. The investment required to start the franchise is between INR 6.8 to 10 lakh, including a brand fee of INR 2.9 lakh. The minimum staff required is 2, and you'll need a space between 150 – 500 Sq Ft.
7. SpeedForce
SpeedForce is a popular two-wheeler repair and maintenance service that has franchises located in over 35 locations across India. They offer a wide range of services, including annual maintenance contracts, roadside assistance, and spare repair discounts. The best thing about SpeedForce is that it offers high returns on low investment, along with customer support both online and offline. You can start a SpeedForce franchise by investing between ₹7.5 lakhs to ₹10 lakhs. To market the franchise, you can use word-of-mouth promotion, billboards, and team up with auto shows and events.
8. Mother Dairy
Mother Dairy is a renowned dairy firm in India that has been rapidly expanding its operations, with plans to establish two more production factories in 2014. Being one of the top five brand names in Asia, the company is among the biggest producers of milk-based products. To become a Mother Dairy franchisee, the dealership cost ranges from ₹5 lakhs to ₹10 lakhs, and a franchise fee of ₹50,000. Mother Dairy's business specializes in producing and distributing a range of dairy products such as milk, ice cream, cheese, butter, and yogurt.
9. Monginis
Monginis, a well-known bakery and confectionary brand in India, has made its name with a massive turnover of 800 crores, thanks to its 750 exclusive cake shop outlets and over a thousand distributors. To be a Monginis franchisee, you should have an area of 250 sq feet and invest between Rs. 5 lakhs to Rs. 10 lakhs, with a franchise/brand fee of Rs. 3,00,000 and a commission/royalty of 20%. Monginis has a vast customer base all over India, and they're expanding their brand internationally, making it an excellent opportunity for franchisees to be a part of this thriving business.
10. Generic Aadhaar
Generic Aadhaar is a company that offers generic and branded medicines at significantly lower prices compared to its branded counterparts, and they are expanding its business in India. They are searching for Master Franchisees in 300 cities across the country, with one in each city. If you're interested in opening a franchise, you need a commercial property with a floor area of 200-250 sq. ft. The company is willing to provide detailed operating manuals and expert guidance to open the franchise, with a standard franchise agreement available for a dealership term of five years, renewable. You can start a Generic Aadhaar franchise in your own city with an investment of around Rs. 5 to 10 lakhs.
Conclusion
There you have it. Now it is your turn to analyze the details of the franchise options that you find interesting. We have provided you with brief detail as well as how much it would cost you to start off with these particular brands' franchises. So do some due diligence on your end, and that way you'll find out which one of these franchises is worth your time and investment.