Top 10 Best Carrom Board Companies In India
If you're bored and want to kill time with some interesting indoor games, what's better than playing carrom board with friends and family? No matter your age, the carrom board will always be the best indoor strategic game. When playing with friends and family, the carrom board brings everyone into that competitive zone while playing, and that's the fun part. However, remember that a poor quality carrom board can also ruin the mood, so always go for the best of the best.
A smooth and even surface with the incredible build quality is all you need when buying a carrom board. Therefore, we'll be taking a look at the top 10 best carrom board companies in India that always serve quality.
List of Best Carrom Board Companies In India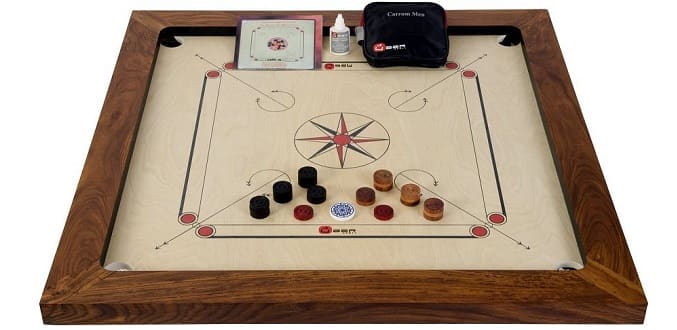 1. GSI
GSI is the leading brand when it comes to agility training and physical education items. You can find all sorts of fitness, sports, and fun activity items listed by GSI on Amazon and on other marketplaces. However, we put GSI on our list because of their superior quality carrom boards. Not only that, but they also offer special carrom coins and stands as well. Along with that, they've got a variety of carrom boards in different sizes and with different board finishes such as matte and gloss.
2. KORNERS
Now, this company seems to do something different to make normal carrom boards somewhat interesting. With some KORNERS carrom boards, you'll find a ludo printed design at the top, so it can be used to play ludo with friends and family. However, this company's carrom board may seem a little expensive at first, but they have got the finest build quality on the market, and you will be paying for a full-size carrom board. There are other boards with cut-pocket and round-pocket designs, so that would be another plus here.
3. Synco
Synco is primarily famous for its top-notch carrom boards, but they also sell other items such as bags, sports jerseys, table tennis items, and gym equipment. Talking about the carrom board, Synco has got one for everybody, no matter what your budget range is. However, we highly recommend investing in a mid-to high-priced carrom board if you really want it to last longer. Other than that, if you only want to buy carrom accessories, don't look anywhere else Synco has got you covered.
4. Surco
Surco's carrom boards are quite famous not only in India but in other countries as well. This company focuses on quality factors rather than just ripping off customers. As a result, most of their full-size carrom boards will be slightly more expensive than standard carrom boards, but it will be well worth it. Surco focuses on improving the experience of a carrom board. That's why they use premium-quality materials. And once you get a Surco carrom board, it'll definitely last for years.
5. Precise Sports
Precise is the leading brand in the board games category, so it is understandable that you have considered some of the carrom board options when looking for the best one. There are all sorts of carrom boards with the incredible build quality and other features. You'll definitely like that. This company claims that if you buy a decent carrom board from them, it'll last for generations, which is somewhat true because of the sturdiness of their end products.
6. Whitedot Sports
Whitedot has been in the sports equipment category for quite a while now, and through the years, they have gained a lot of trust and popularity. As of now, they sell almost everything, no matter what sport you are interested in. Just visit their website, and you'll know what we mean by that. However, it was Whitedot's carrom board that drew our attention. If your budget range is anywhere between 2000 and 2500 rupees, we'll recommend the Whitesport carrom board. It's the best at this price point.
7. Vinex
Again, similar to other companies on our list, Vinex Shops also offer other sports items as well. Primarily, Vinex is known for its best fitness and sports equipment. If you are looking for any other indoor or outdoor activity games, items, or equipment, don't forget to check out Vinex shops. talking specifically about their carrom board, so we'd consider it above average. However, the pricing is quite impressive for such a high-quality carrom board that they've set. The pack includes two powder bottles for smoothing the surface, a full-sized carrom board, and special carrom coins.
8. Stag International
From sports items to apparel, Stag International has a lot to offer. If you're a fitness enthusiast who takes a lot of interest in sports, then this is the brand that would suit your needs. The sole focus of the company is on promoting outdoor games and activities. However, they have indoor game items and accessories as well. If you can push your budget a little to 3000 rupees or just a little more, we'd definitely suggest you buy Stag International's carrom boards; they're the best in this price segment.
9. Siscaa
Siscaa is one of the leading manufacturers of carrom boards in India. Therefore, you can expect something better from this brand for sure. The carrom boards by Siscaa are the highest-rated ones on the online marketplaces. If you search for this brand's name on Google, the Google reviews will definitely impress you. But you may need to stretch your budget range a little because the Siscaa carrom boards are a little more expensive than others.
10. The JD Sports
Are you in need of the best shoes, outdoor sports items, gym equipment, or anything like that? Well, don't you worry now, JD Sports has got your back. But we are mainly impressed by the variety of board games or indoor fun activity items that they sell. In particular, the carrom and chess board sections really caught our attention. While targeting the budget segment, JD Sports has done a great job of manufacturing the best quality possible at this price point. So yeah, JD Sports is definitely worth a try.
We can't deny the fact that there are hundreds, even thousands, of carrom board sellers, but you can't rely on the quality they offer. That's why going for a branded carrom board is the right decision. And we hope that this post of the top 10 best carrom board companies in India will help you with that.