5 Key Tips for Making Your Two-Wheeler Easier to Get!
A two-wheeler trumps a four-wheeler when it comes to convenience and commute any day. It saves considerable time, be it a quick trip to a relative's house, travelling to work, or visiting the nearby store for groceries. Easy to manoeuvre and less parking space requirement make two wheelers incredibly easy to use. And now, with likes of the Hero new model bike, the already affordable costs of operating two-wheelers are being brought down even more.
While planning a two-wheeler purchase, people can choose between geared and automatic models. However, before making the final call, a little research will help make the right decision and save money. Here are a few important tips one must keep in mind while scouting a bike.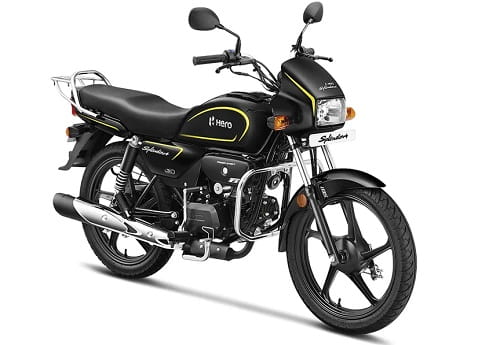 1. Choose the Right Brand
A two-wheeler is an investment that will serve its owners for a good number of years. And choosing the best brands will invariably ensure a reliable, high-quality product. India has several bike manufacturers that consumers trust. Many owners pick the brand based on the going resale value. This is why research, comparison, and looking up user feedback always help in picking the best brand for a two-wheeler.
2. Check the Mileage
Mileage is one of the most important factors to consider while buying a vehicle. With skyrocketing fuel prices, the vehicle's mileage is almost as important as the budget. Mileage is the distance a vehicle covers with one litre of fuel. A good two-wheeler with sufficient mileage must provide at least 35 to 40 kmpl. However, be careful to not get confused between highway mileage from in-city mileage.
3. Consider the Weight, Height, and Size
While looking for the best model, test the ride before purchasing and see if it is easy to handle. The bike should not be too bulky for an owner to handle. The vehicle's weight is also important: if the bike is too heavy, the buyer should try lighter options. The vehicle's height also plays a part, and it should be just right, so the rider's feet get optimum balance. A bike that is too high will be difficult to handle and be prone to more imbalance and accidents.
4. Read Reviews
Checking out actual reviews is another part of choosing a bike. They can give unbiased information on a bike's features, mileage, running, performance, etc., from first-hand experience. Since purchasing a bike involves a sizeable investment and may even need borrowing a two-wheeler loan, getting to know about it from its existing users will give valuable and reliable feedback.
5. Know the Maintenance Costs
Post-purchase, every vehicle requires regular maintenance to keep it in optimum running condition. While enquiring about any two-wheeler, find the costs related to its check-ups, routine servicing, etc.
6. Enquire About the Availability of Spare Parts
Availability of spare parts is another factor worth considering regarding a vehicle's repair or servicing. Sometimes, a particular brand's or model's spare parts are not easily available, which delays the vehicle's repair when needed or increases its cost. Many new models may not have parts that are easily available in the market. So, while purchasing a vehicle, ensure easy availability of its spare parts.
7. Check Accessibility to Service Centres
As part of the bike selection process, find out the location of the brand's nearest service centre. In case of a repair or mishap, hauling the vehicle to the nearby service centre will be far more convenient than towing it far away. Therefore, before selecting a particular bike model, find the location of the nearest service centre.
8. Evaluate the Resale Value
The vehicle's brand plays a crucial role in determining its resale value. Bikes from reputable manufacturers fetch higher prices at the time of reselling. Although the resale value also depends on the vehicle's year of purchase and physical and mechanical condition, purchase from a reliable brand to get an attractive price afterwards. For instance, the Hero new model bike will fetch better resale value owing to the brand legacy and consumer trust.
9. Consider the Budget
With vehicle prices going upward, it's better to keep aside some money to finance the purchase. If buyers must stretch their budget, they can do so with the help of a bike loan. It allows prospective buyers to expand their options and get the two-wheeler they wish to buy. Here are a few tips that can make a bike loan easier to get:
Borrow an Appropriate Loan Amount: When people find their dream bike, they tend to go for a higher loan amount than they can afford to repay. However, doing that can make the repayment more challenging for the borrower. Therefore, decide on a loan amount based on the borrower's monthly repayment capacity.
Compare Interest Rates: Research different loan offers and compare their interest rates. With attractive pricing, prospective buyers can choose a loan plan with affordable EMIs. This way, they can minimise their interest liability and save money.
Maintain a High Credit Rating: Loan providers will check a borrower's credit score before approving their loan application, directly affecting their interest rates and loan terms. To obtain a loan at the best interest rates, maintain a good credit rating with consistent repayment history. Paying all credit bills on time, diversifying the credit mix, and retaining old accounts are the best tips to build a strong credit history.
Reduce the DTI Ratio: Lending institutions determine loan eligibility and interest rates based on the applicant's income and financial obligations. Those with a high income and minimal debt obligations get better loan plans than others. Strong creditworthiness helps avail a two-wheeler loan with easier repayment terms.
Choose an Appropriate Repayment Term: Check the different repayment options with the lender. Longer the term, the higher the interest component. Choosing a loan plan with affordable EMIs will allow repayment quickly while ensuring never missing an EMI.
In the search for the best bike, while the market is brimming with different options, prospective buyers may consider taking a two-wheeler loan with the best terms and conditions. Plan a budget and choose the best loan plan to be the proud owner of a bike you have always dreamt of.