Mahabhulekh Aurangabad 7/12 Utara, 8A & Property Card Details
Aurangabad is one of the major city in Maharashtra and it is also a very popular tourist hub. The city has many monuments which are UNESCO World Heritage Sites. Some of the popular attractions are Ajanta and Ellora Caves, Bibi ka Baqbara and the list is endless. The weather of the Aurangabad is quite pleasant and it is surely a heaven during the monsoon season. All these factors make it an attractive option to live or to invest money in real estate.
If you have already made plans to purchase property in Aurangabad then this article is specifically for you as in this article, we have listed the ways to check the land record details along with the importance of checking the records.
What is it Important to Check Land Records?
With help of Mahabhulekh, you can check the details like
The area of the land and the type of land

The details of any loan against the property

The details of the owner of the property.

The address of the land
These can prove to be quite an important piece of information as this can help you in ensuring that you are dealing with the right owner of the land and at the same time, this will also help you in ensuring that you don't have to go for a survey of the land once again. To check these details, Maharashtra Government maintains a portal and here is how you can use it.
How to Find Land Records?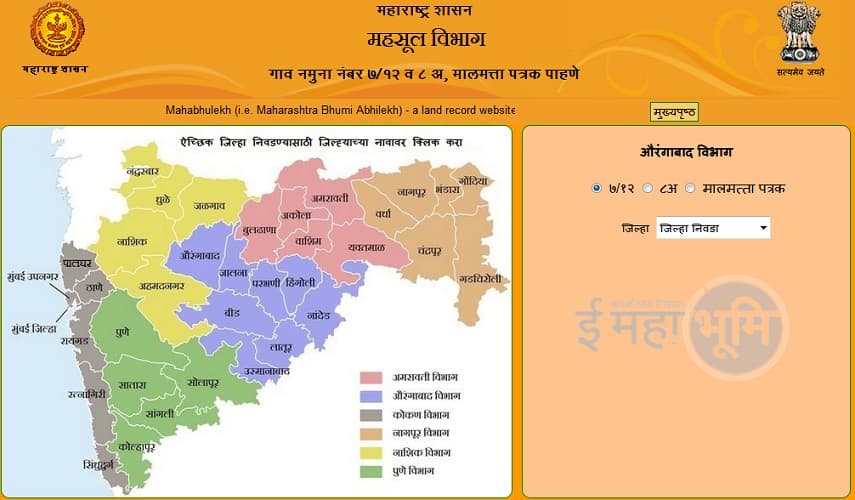 On this URL, you need to select Aurangabad from the drop-down menu on the homepage.

After being redirected to the new page, you need to enter the details of the Village, Sub District and Tehsil. This will help you in filtering the results easily.

Now, enter the details to search for the land records. For this, you should know the survey number, the name of the owner or Akshari Number. Survey Number is quite easy to find.

You will now have the land records displayed on your screen.
This is the process to check the land records in Aurangabad. The process eliminates the need to visit the government department to check 7/12 Utara and other property details and it is surely a blessing for the people who want to invest in property.