How To Withdraw Funds From FYERS
In the last decade or so, the number of people trading in the stock market has increased dramatically. And that's because investing in stocks or buying shares is much easier than ever before. You can literally purchase and sell shares or stocks in seconds, which was not feasible before the digital era. Now everyone knows about the share market, and they understand the stock market to some extent. And stock brokers have played an important role in that, especially discount brokers.
In the last decade, many discount stock brokers entered the Indian market, and they made it much easier for anyone to invest in stocks. Fyers is one of those discount stock brokers, however, it is a little underrated broker but is the most trusted one in India. If you have recently started using Fyers and have already earned some money by investing in stocks, then you'd surely wanna withdraw that money to check whether it is a legit platform or not. Correct? Just to help you out, in today's post, we'll be going over how you can withdraw funds from Fyers. So stay tuned.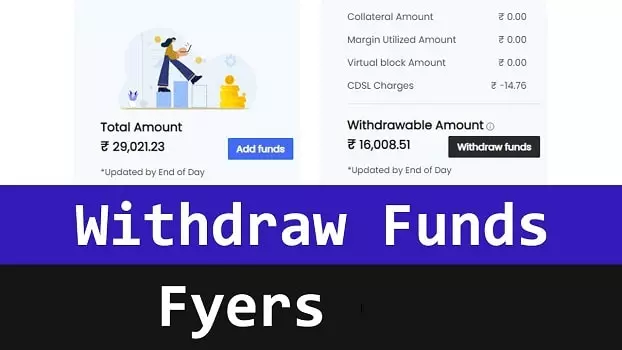 Step-By-Step Process To Withdraw Funds From Fyers
The fund withdrawal process of Fyers is super easy and straightforward, you won't have any difficulty withdrawing your money to your bank account. However, if you bought a few shares of some company a few weeks ago, and you have just sold those shares making a good profit.
But there is something you should know about, your funds will not be immediately available to withdraw, and you'd have to wait at least one working day before you can withdraw the money. And that is not just with Fyers, no matter which discount broker you are using, all have the same policies regarding the fund withdrawal process. Now let's get down to how you can withdraw funds from Fyers.
We are elaborating on the process for Fyers' smartphone app, however, the process is the same for the web version as well.
First of all, log in to your account in the Fyers app, and once you have logged in, you'll see your stocks wishlist on the screen. Tap on the profile icon given in the bottom right corner of the app interface.
Once you do that, there will be three tabs on the screen: funds, settings, and profile. By default, you'll be seeing the funds tab, where you'll see the total funds available, and other details.
At the bottom of the funds' breakdown or details, you'll have two buttons: ADD and WITHDRAW.
Since your goal is to withdraw money from Fyers, that's why simply tap on the WITHDRAW button.
Now a browser tab will open up on your device, and you'll be redirected to your Fyers dashboard in the web interface.
Look at the top right corner of the Fyers dashboard, there will be a four-line icon, by tapping on that you'll bring up the Fyers web interface menu. From the menu, select the very first option that says "Funds."
Now you'll be able to see all the funds-related information on the screen, and how much balance is available in your Fyers account.
Scroll down on the very same page, until you see the "Withdrawable Amount" section. Here all the withdrawable funds will be shown on the screen.
In order to withdraw the funds, simply tap on the "Edit Request" button. Once you do that, another page will load in the browser, and this time you'll be asked to enter the amount you want to withdraw and select the bank account to which you want these funds to be credited.
Simply enter the amount and select the bank linked with your Demat account, and hit the "Withdraw Request" button.
Next, you'll have to confirm the request, so for that tap on "Confirm Details," or if you want to change the bank account or amount then select the "Back to Edit" button.
Now you'll see a message on the screen that says "Withdrawal process initiated, We will let you know the status!"
This simply means you have successfully submitted the withdrawal request, and your funds will be credited to your selected bank account by 4:00 PM of the next working day.
And that is how you withdraw funds from Fyers, if your funds didn't get credited to your bank account by 4:00 PM of the next working day, you should get in touch with the Fyers support team.