How To Make GHMC Property Tax Online Payment?
If you own a property in any state of India, you must pay the property tax for that to the state governments. And the same can be applied to the GHMC or Greater Hyderabad Municipal Corporation. GHMC utilizes this tax to upgrade the infrastructure of Hyderabad city and also make sure to provide civil services to everyone living in the city. And if you pay your GHMC property tax, you are directly contributing to human welfare and the greater good of Hyderabad. Today we will be taking a look at how you can pay GHMC property tax without going anywhere, directly from your smartphone or computer device. So stay tuned for that because now paying property taxes is much easier than ever before.
What Is GHMC Property Tax?
GHMC stands for Greater Hyderabad Municipal Corporation, a corporation behind the insanely huge infrastructure of Hyderabad, and it is solely dedicated to providing civil services to everyone living in the city. Every state government has such organizations or corporations that manage the infrastructure of a jurisdiction area. And by paying the property taxes like GHMC you are directly contributing to the greater good of your own city or where your property is located.
How To Make GHMC Property Tax Payment Online?
If you used to pay property tax offline by visiting the physical branch of GHMC, then paying property tax online may seem unsafe to you, but it isn't. Instead, it is the most convenient way to pay taxes without even leaving your couch. Let's get down to the step-by-step process of making the GHMC property tax payment online.
First things first, visit the official website or online portal of GHMC. You can search for the term "GHMC Property Tax" on Google, and the very first link will be the official web page. However, you can use this link

https://onlinepayments.ghmc.gov.in/

to directly land on the GHMC web portal.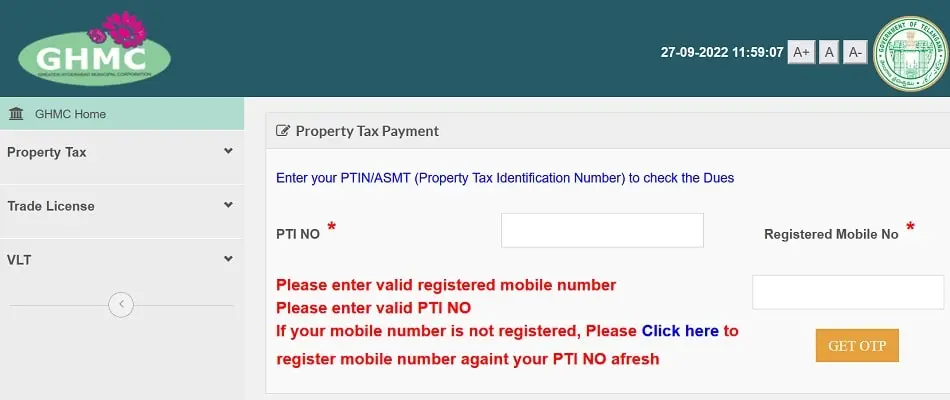 Once you are on the homepage of the GHMC portal, you'll be asked to submit some details. In the first input box, enter your PTIN or Property Tax Identification Number (10 digits) and put your registered mobile number in the second input box. You can find your PTIN very easily since it will be printed on the previous tax receipts that you paid to the GHMC physical branch. After that, simply hit the "GET OTP" button to start the OTP verification.
Now the GHMC portal will send an OTP code to your registered mobile number, simply complete the OTP verification to proceed next in the process.
Now, the database will fetch information regarding your tax dues, and the payable amount for this financial year.
On the very same page, when you scroll down, there will be all sorts of information regarding your property like your name, door number, circle, locality, etc. Not just that, when scrolling down a bit, you can find the total breakdown of your property tax, and the total payable amount for this year.
Below all the information, you'll be asked to enter your mobile number, as well as your email ID.
And under the mobile & email id input boxes, there will be a section to select the payment method as per your choice.
You'll have payment methods like Wallets, UPI, Net Banking, Credit Card, and Debit Cards. Select whatever method you like, and proceed next by clicking on the "Proceed To Online Payment" button. Now a pop-up will appear on the top of the page notifying you that now you'll be redirected to the payments page. Just, fill out the payment details, and make the payment.
Once you have successfully paid the tax amount, you'll be redirected to the GHMC website again, and this time on the screen you should see a message like "Your Transaction Completed Successfully With Following Details." Under that message, there will be details like PTIN, Amount, Transaction Status, GHMC Transaction ID, Bank Transaction ID, Tax Amount Status, etc.
How To Download the GHMC Property Tax Receipt?
Let's talk about how you can download the GHMC property tax receipt after a successful transaction. When you are redirected to the GHMC website after the transaction is completed, you'll be shown all sorts of transaction details and tax status regarding your PTIN. When you scroll down to the bottom of the same page, there will be a button that says "Download Receipt."  Simply click on this button, and the GHMC property tax receipt will be started downloading to your device. Or it could be that after clicking on the "Download Receipt" button, a new tab will open where the tax receipt will load on the screen, you can right-click and save the document to your device that way. It'll download as a PDF document, you can print it out whenever you want.