How To Make PCMC Property Tax Online Payment?
Paying property taxes is mandatory in India, and state governments are responsible for collecting these property taxes from the property owners every year. For that, state governments have municipal authorities that collect the taxes on the ground level. PCMC is one such municipal authority working under the Maharashtra government. And just a decade ago, if you had to pay for PCMC property taxes, you had to visit the local branch/office of PCMC for that. But now, the technological advancement and digitalization of India, have made paying property taxes much easier. Today we will be taking a look at how a property owner can make PCMC property tax payments online. Let's get started. Shall we?
What Is PCMC Property Tax?
PCMC stands for Pimpri Chinchwad Municipal Corporation, which is a municipal authority functional in Pune, Maharashtra. PCMC collects property taxes from its respective jurisdiction area and the overall amount or fund is utilized in making the civil infrastructure of the city better by providing civil services to the population of Pune. As a vigilante and responsible citizen of Maharashtra, by paying property taxes, you are directly contributing to making your own city better. Which ultimately benefits you in the end.
How To Make PCMC Property Tax Payment Online?
Paying for your PCMC property tax online is much easier than ever before. Now you don't even need to visit the local office of PCMC for any query or pay taxes. Below, we will go over the step-by-step process of how to make PCMC property tax payments online. So stay tuned for that.
First things first, make sure you visit the official webpage or web portal of the PCMC. You can search the term "PCMC Property Tax" and the official webpage will come right up in the search results. Or you can use this direct link

https://propertytax.pcmcindia.gov.in/pcmc/

to land on the official PCMC website.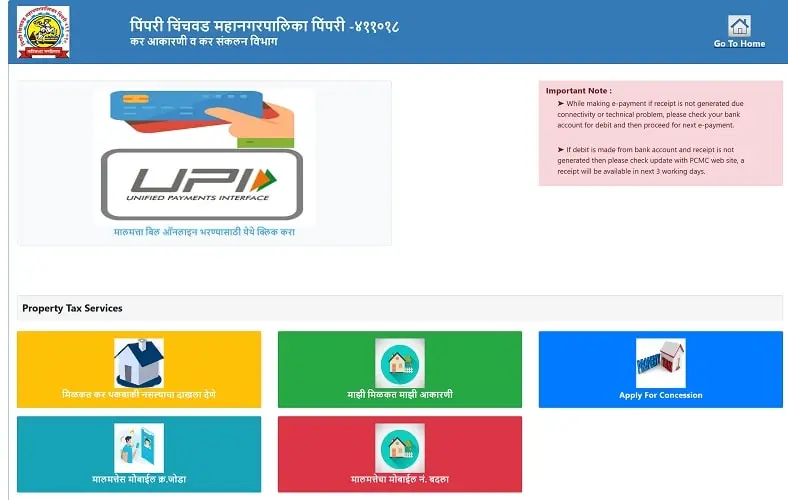 When you are on the home page of PCMC Property Tax Services, you'll be asked to change the language. We recommend sticking with English, or if you are comfortable then continue with Marathi.
On the homepage itself, there will be a single option at the top of the page, that says "Click here to pay property bill online." Simply click on it, and it'll redirect you to another page.
When the next page loads, you'll see a form on the right-hand side with four input boxes. Now provide the required details such as Zone number, Group Number, and last five digits of your Property Number with the increased value. You can find all these details on the property bill that PCMC issues after buying a property. In case you can't get your hands on your property bill right now, then you can click the "Search Property By Phone Number" button. But to fetch your property tax details this way, you have to have your property KYC completed.
Anyway, after entering the required details, hit the "Show" button.
Now the PCMC online portal will fetch the property bill if you have entered the correct information. On the very same page, you'll be able to see all the property owner's details as well as the total breakdown of your property bill for the current financial year. If there are any dues, you'll be able to see that as well.
Scroll down on this page, and under the total tax amount, there will be a "Make Payment" button. Once you click on this button, a pop-up will appear notifying you that now you'll be redirected to the payments page. Simply hit "Okay" to proceed next.
On the payment gateway page, there will be a total payable amount, and two input boxes to enter your contact number and email id. Enter the required details and hit the "Make payment" button.
On the next page, you'll be able to choose payment methods, like Credit Card, Debit Card, Net Banking, Wallets, and even UPI. Select your preferred payment method, and carry out the transaction.
After the transaction, you'll be automatically redirected to the PCMC website, where the transaction status and transaction ID will be shown on the screen. That means you have successfully paid your PCMC property tax online.
How To Download the PCMC Property Tax Receipt?
When you make the payment for the PCMC property tax, you'll be redirected to the PCMC website after successful payment. And on this page, there will be the transaction ID and transaction status of your payment. Just under these details, there will be a link saying "SHOW MY BILL RECEIPT." Simply click on this link, and if you are using the Chrome browser, then your bill receipt will start downloading automatically. If it opens up in a new tab, then just right-click on it, and choose the "Save as PDF" option or you can print it out directly.