Top 10 Best PEB Companies in India
The Indian construction industry has evolved with the development of advanced technologies and architectural experts. It also had a huge impact on the development of India's overall economic infrastructure.
Along with the business and IT sectors, the Indian market has expanded massively after economic liberalization in the 1990s, setting up of PEBs, known as pre-engineered buildings, which have transformed the construction space in the country.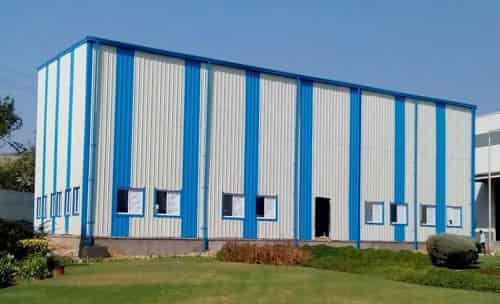 However, due to the Make in India campaign and the initiatives taken by the Government of India to support FDI, the demand for infrastructure improvements by all sectors has increased tremendously.
Due to offering many benefits including easy expansion, low maintenance cost, large clear span, high salvage value, rapid completion, quick installation, tremendous flexibility in design, ideal for fabricated construction or bolted, and high salvage value, PEB installation has gained drive. Here are some of the leading PEB Companies offering quality materials for making such buildings:
List of India's Top 10 Best PEB Companies
Multi Décor India Private Limited
Zamil Steel Buildings India Private Limited
Tiger Steel Engineering India Private Limited
Everest Industries Limited
SML Group
Multicolor Steels India Private Company
Lloyd Insulations India Limited
Hindustan Alcox Limited
Interarch Building Products
Kirby Building Systems
1. Multi Décor India Private Limited
Multi Décor Indian Private Limited is a Haryana based PEB Company, supplying all types of PEB equipment that can withstand all types of climate change and are disaster-resistant. Apart from Pre-engineered buildings, the company is also engaged in producing site offices, prefab homes, Industrial infrastructural solutions, LGSF Hybrid Construction, Modular farmhouses & homes, portacabin and many more.  PEBs by Multi décor make a smart choice due to their easy on-site installation within a given time frame. Multi décor India has completed 5000 + projects in India.
2. Zamil Steel Buildings India Private Limited
Established in the year 1977, Zamil Steel Building India private limited is having its main office in Damman, Saudi Arabia, making it a prominent international company. The company started its business as a Pre-engineered buildings company in India in 2006. It is engaged in steel and building solutions. In recent years, the company has earned a world-class reputation and proved itself to be a well-known PEB company. Being the newly developed company in the Indian market, it offers some of the products that lead the construction industry of India. To meet the requirements of each client, the company continuously forges tie-ups with several leading experts and shareholders.
3. Tiger Steel Engineering India Private Limited
Tiger Steel Engineering India Private Limited came into existence in the year 1968 with its corporate office in Mumbai, Maharashtra. It is one of the oldest and most renowned companies in the market that offer services as PEB suppliers, manufacturers and operators. Being one of the oldest companies on this list, Tiger Steel has secured a respected place among users. Tiger Steel mixes state of the art software, skill sets, professionalism and versatile manufacturing lines to deliver what customers may have on their wish list.  Tiger Steel Indian supports General Fabrication and Pre-Engineered Metal Building for the infrastructure industry.
4. Everest Industries Limited
Everest Industries Limited is another oldest company on this list since it was formed in the year 1934. It has its corporate office in New Delhi, the state of India. They are engaged in the business of steel manufacturing. It meets the demands and requirements of the people across the country. Everest Company also worked hard to impart the concept of a people toward a PEB company. The company blends excellence, energy and a balance of experience. Despite many youngsters working in the company, they are also catering to their skilled and experienced employees who are the backbone of the company.
5. SML Group
SML group was formed in the year 1973, and its headquarter is situated in Noida, UP. They are leading into the business of metal and pre-engineered building. To meet the requirements of the customers, which is their main objective, it has gained immense popularity. The company has a positive track record of providing suggestions and support to its customers. Today, the SML group work as a global leader in continuous sustainability, innovation, and value-driven solutions for unique brand requirements.
6. Multicolor Steels India Private Company
The company have their commercial office in New Delhi, India. Formed in the year 1994, they are engaged in the business of metal roofs, wall cladding, and PEB. The company has a good record of having installed the four million square meters of the metal roofing system and working with more than 500 companies. Furthermore, they are also keen to know what their customers need and strive to provide better results, products and services than what they are offering.
7. Lloyd Insulations India Limited
The company was established in the year 1958, and they have its corporate office in Mumbai, Maharashtra. They are known to offer India's world-class industrial insulation and PEB. The best part about Lloyd Insulation India Limited is that they have the count and experience to serve the needs of the customers for over 54 years. This is the reason that this company has known to be one of the best PEB companies in India. Lloyd India limited had also competed in some of the finest projects in India.
8. Hindustan Alcox Limited
Hindustan Alcox Limited is one of the efficient pre-engineered building manufacturers. They not only have start-art-of technology but outstanding support of a qualified, well educated and expert team. They are committed to offering the best quality of work on every project. Additionally, the company is promised to provide reliable manufacturing, better designs and good installation of the assembling projects that are in agreement with the installation of the principle of engineering.
9. Interarch Building Products
Interarch building products is a leading PEB company in India. It was formed in the year 1984, and its head office is situated in Noida, Uttar Pradesh. They are into the business of steel and PEB products. It is one of the well-developed companies which are an essential part of the country. Being one of the trusted and reputed companies, it is manufacturing more than 3 million square meters of roofing every year. Interarch grasps a significant part of the market share in India for metal building systems. It works in close association with industry leaders in construction and project development, providing support to infrastructure & commercial, critical industrial projects.
10. Kirby Building Systems
Established in the year 1976, Kirby Building systems is having its head office in Andhra Pradesh. The company involves in the business of pre-engineered steel buildings. It has manufacturing facilities in Hyderabad, Kuwait, Haridwar, Ras Al Khaimah and Vietnam with a production capacity of over 4 Lakh MT per year. The company has also owned the ISO 9001 quality standard certification and sales offices in 70 countries. Presently, Kirby has manufactured 60,000+ buildings across the globe, including the world's largest PEB building named the Renault Nisan factory in India.
Conclusion
The Indian pre-engineered market is enjoying rapid growth owing to the increasing popularity of PED ideas in the industrial sector and increasing infrastructure development. These sectors include FMCG, Capital, Automotive, Power, Logistics and Pharma. Pre-Engineered Buildings are ideal for wide-span low rise and non-residential buildings, and they are used for varied applications such as showrooms, warehouses, aircraft hangars, metro stations, factories etc.