Top 10 Best PEB Companies in India
The Indian construction industry has evolved with the development of advanced technologies and architectural experts. It also had a huge impact on the development of India's overall economic infrastructure.
Along with the business and IT sectors, the Indian market has expanded massively after economic liberalization in the 1990s, setting up of PEBs, known as pre-engineered buildings, which have transformed the construction space in the country.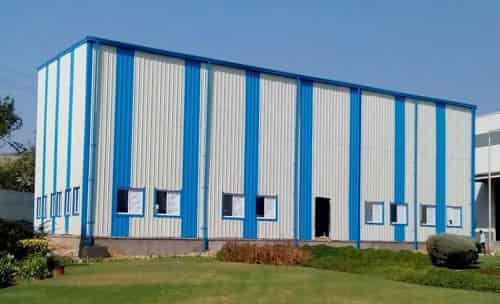 However, due to the Make in India campaign and the initiatives taken by the Government of India to support FDI, the demand for infrastructure improvements by all sectors has increased tremendously.
Due to offering many benefits including easy expansion, low maintenance cost, large clear span, high salvage value, rapid completion, quick installation, tremendous flexibility in design, ideal for fabricated construction or bolted, and high salvage value, PEB installation has gained drive. Here are some of the leading PEB Companies offering quality materials for making such buildings:
List of India's Top 10 Best PEB Companies
1. EPACK Prefab
EPACK Prefab, incorporated in 1999, has emerged as one of the fastest-growing infrastructure businesses, providing sustainable and intelligent building solutions. The company offers a comprehensive range of products, including PEB buildings, light gauge steel frames, and thermally insulated panels. These products have played a crucial role in supporting numerous industries and major government initiatives in various Indian states, as well as facilitating exports worldwide over the past three decades. EPACK Prefab has successfully executed key projects such as Hindon Airport, Amartnath Yatri Niwas, International Squash Stadium (New Delhi), hospitals, schools, and warehouses.
2. Multi Décor India Private Limited
Multi Décor Indian Private Limited is a Haryana based PEB Company, supplying all types of PEB equipment that can withstand all types of climate change and are disaster-resistant. Apart from Pre-engineered buildings, the company is also engaged in producing site offices, prefab homes, Industrial infrastructural solutions, LGSF Hybrid Construction, Modular farmhouses & homes, portacabin and many more.  PEBs by Multi décor make a smart choice due to their easy on-site installation within a given time frame. Multi décor India has completed 5000 + projects in India.
3. Zamil Steel Buildings India Private Limited
Established in the year 1977, Zamil Steel Building India private limited is having its main office in Damman, Saudi Arabia, making it a prominent international company. The company started its business as a Pre-engineered buildings company in India in 2006. It is engaged in steel and building solutions. In recent years, the company has earned a world-class reputation and proved itself to be a well-known PEB company. Being the newly developed company in the Indian market, it offers some of the products that lead the construction industry of India. To meet the requirements of each client, the company continuously forges tie-ups with several leading experts and shareholders.
4. Tiger Steel Engineering India Private Limited
Tiger Steel Engineering India Private Limited came into existence in the year 1968 with its corporate office in Mumbai, Maharashtra. It is one of the oldest and most renowned companies in the market that offer services as PEB suppliers, manufacturers and operators. Being one of the oldest companies on this list, Tiger Steel has secured a respected place among users. Tiger Steel mixes state of the art software, skill sets, professionalism and versatile manufacturing lines to deliver what customers may have on their wish list.  Tiger Steel Indian supports General Fabrication and Pre-Engineered Metal Building for the infrastructure industry.
5. Everest Industries Limited
Everest Industries Limited is another oldest company on this list since it was formed in the year 1934. It has its corporate office in New Delhi, the state of India. They are engaged in the business of steel manufacturing. It meets the demands and requirements of the people across the country. Everest Company also worked hard to impart the concept of a people toward a PEB company. The company blends excellence, energy and a balance of experience. Despite many youngsters working in the company, they are also catering to their skilled and experienced employees who are the backbone of the company.
6. SML Group
SML group was formed in the year 1973, and its headquarter is situated in Noida, UP. They are leading into the business of metal and pre-engineered building. To meet the requirements of the customers, which is their main objective, it has gained immense popularity. The company has a positive track record of providing suggestions and support to its customers. Today, the SML group work as a global leader in continuous sustainability, innovation, and value-driven solutions for unique brand requirements.
7. Multicolor Steels India Private Company
The company have their commercial office in New Delhi, India. Formed in the year 1994, they are engaged in the business of metal roofs, wall cladding, and PEB. The company has a good record of having installed the four million square meters of the metal roofing system and working with more than 500 companies. Furthermore, they are also keen to know what their customers need and strive to provide better results, products and services than what they are offering.
8. Lloyd Insulations India Limited
The company was established in the year 1958, and they have its corporate office in Mumbai, Maharashtra. They are known to offer India's world-class industrial insulation and PEB. The best part about Lloyd Insulation India Limited is that they have the count and experience to serve the needs of the customers for over 54 years. This is the reason that this company has known to be one of the best PEB companies in India. Lloyd India limited had also competed in some of the finest projects in India.
9. Interarch Building Products
Interarch building products is a leading PEB company in India. It was formed in the year 1984, and its head office is situated in Noida, Uttar Pradesh. They are into the business of steel and PEB products. It is one of the well-developed companies which are an essential part of the country. Being one of the trusted and reputed companies, it is manufacturing more than 3 million square meters of roofing every year. Interarch grasps a significant part of the market share in India for metal building systems. It works in close association with industry leaders in construction and project development, providing support to infrastructure & commercial, critical industrial projects.
10. Kirby Building Systems
Established in the year 1976, Kirby Building systems is having its head office in Andhra Pradesh. The company involves in the business of pre-engineered steel buildings. It has manufacturing facilities in Hyderabad, Kuwait, Haridwar, Ras Al Khaimah and Vietnam with a production capacity of over 4 Lakh MT per year. The company has also owned the ISO 9001 quality standard certification and sales offices in 70 countries. Presently, Kirby has manufactured 60,000+ buildings across the globe, including the world's largest PEB building named the Renault Nisan factory in India.
Conclusion
The Indian pre-engineered market is enjoying rapid growth owing to the increasing popularity of PED ideas in the industrial sector and increasing infrastructure development. These sectors include FMCG, Capital, Automotive, Power, Logistics and Pharma. Pre-Engineered Buildings are ideal for wide-span low rise and non-residential buildings, and they are used for varied applications such as showrooms, warehouses, aircraft hangars, metro stations, factories etc.
How To Choose The Best PEB Company in India
Alright, here are some of the things you gotta consider if you really want to see the "BEST" PEB company to be working on your project.
Project Scale and Scope
Alright, so the first thing to think about is how big and complicated your project is. If you're just putting up a little storage shed, a local Pre-Engineered Building (PEB) company will probably do the trick. But if you're looking to build the next Burj Khalifa, you're gonna need a company that has some serious skills and expertise in design and construction.
Geographic Location
So, where you're building is located is also a big deal when you're choosing a PEB (pre-engineered building) company. Local guys might cut you a better deal and they probably get the whole vibe of the place like what the weather's like and all those local building rules.
Budget Constraints
Okay, let's talk dollars and cents. You've got a budget, and that's gonna be a heavy hitter in your decision-making. When you get that quote, do a little digging to find out what's actually in there. Cheaper ain't always better, you know? Sometimes, you'll find that shelling out a bit more upfront can give you perks down the line like better materials, warranties, or even some awesome after-sales service.
Experience and Track Record
You want a company that knows its stuff, right? Well, a lot of times, experience goes hand-in-hand with quality and reliability. If a company's been doing the PEB thing for years, chances are they've seen it all, from easy-peasy projects to "Oh, man, what do we do now?" situations. So, don't be shy! Ask them for some case studies or references to see if they've got the credentials or portfolio to back up their game.
Technical Expertise
Listen, if you're diving into a PEB project, you're gonna want a crew of brainy engineers and savvy architects backing you up. A quick peek at their qualifications and industry stamps of approval can tell you if they're the real deal or just playing pretend.
Quality of Materials
You don't want your building falling apart like a cheap toy, right? That's why you gotta know what stuff they're putting in it. We're talking about steel frames, roof layers, insulation, and things like that. Make sure everything's up to the mark and industry-approved. And hey, if they've got certifications to prove it, that's even better!
Pricing and Payment Terms
When you're weighing your options, make sure to stack up quotes from different companies. What's in the package, what got left out, you'll wanna know it all. And don't forget to check out how they want the dough. Are they asking for a huge chunk of change upfront, or are they cool with milestone-based payments? Make sure it fits with your budget and your timeline.
Timelines and Project Management
You've got a schedule, and it ain't flexible! Delays are more than just a hassle, they can be a wallet-draining nightmare if you don't pay attention. So, make sure you're partnering up with a company known for crossing the finish line on time. And it wouldn't hurt if they had a rock-solid project management game to keep everything on track from the very beginning.