Top 10 Best Paper Manufacturing Companies in India
The Indian paper industry has 2% of the global production for paper board and paper. Paper consumption reaches 15 million tonnes due to the strong demand for packaged products. Nowadays, top companies in India expect their high opinion and business performance on how to meet the requirements of the customers. The paper business in India covers a wide range of paper used in writing, packaging and printing and some speciality papers.
Papers used in writing and printing include super printing paper, copier paper, wax paper, bond paper, coating base paper, map litho paper, etc., while posters, kraft paper, boards and some other types of paper products are used for packing. Some manufacturers also offer board, chromo paper, board, art paper, and other types of paper & board.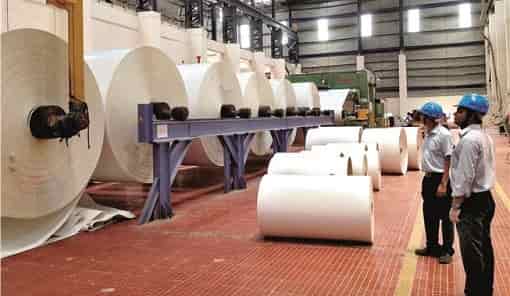 Currently, India is home to more than 500 paper mills, out of which 12 of them has international popularity. In this article, we will discuss India's leading paper manufacturing companies:
List of India's top Ten Paper Manufacturing Companies
Kuantum Papers Ltd.
Ballarpur Industries Ltd. ( Avantha)
Tamilnadu Newsprint and Paper Ltd.
Andhra Paper Ltd.
Seshasayee Paper and Boards Ltd.
JK Paper Ltd.
Kushal Ltd.
West Coast Paper Mills Ltd. (SKB)
Emami Paper Mills Ltd.
Satia Industries Ltd.
1. Kuantum Paper Limited
Kauntum Papers was established in the year 1979-1980, with its register office that is situated in Sailakhurd, Punjab. The company is renowned for producing printing paper and wood-free writing paper in the country. Some of the leading product manufactured by Kuantum includes Ledger, Coloured Paper, Maplithi, Parchment, Cartridge, wood-free speciality paper, and duplicating paper. The company started with 30 TPD paper production at its primary level and has now reached the level of 350 TPD in paper production. The company's annual sales turnover reaches INR 7000 million and employs 1500 people.
2. Ballarpur Industries Ltd. (Avantha)
Ballarpur Industries Ltd came into existence in the year 1945 and has headquartered office in Gurgaon, India. This paper mill was founded by Lala Karamchand Thapar, and now it has become a popular manufacturer of printing and writing paper. It is one of the top 10 Paper Manufacturing Companies or Paper Mills in India. There are numerous manufacturing units available in different zones of the country. These include:
Sew, Jeypore, Orissa
Ashti, Gadchiroli, Maharashtra
Ballarshah or Ballarpur, Chandrapur District, Maharashtra
Bhigwan, Pune District, Maharashtra
Kamalapuram, Warangal District, Telangana
Yamuna Nagar, Yamuna Nagar District, Haryana
3. Tamil Nadu Newsprint and Paper Ltd.
Established in the year 1979, Tamil Nadu Newsprint and Paper Ltd has headquarters in Chennai, Tamil Nadu the state of India. The company is engaged in the production of writing and printing paper. With a huge product potential, the mill depends on cement, energy and paper. Apart from writing and printing paper, it also produced newsprint.
Some of the top products offered by the company include TNPL Elegant Maplitho, Print Vista, Hi-Tech Maplitho, Radiant Printing, TNPL Pigment Paper, and CreamWave, Copy Crown, TNPL Offset Printing, Super Print Maplitho, Students Favorite, Perfect Copier, Hardbound Notebook, Ace Marvel.
It also includes many printing processes, such as digital printers, web offset and sheet-fed. With multiple manufacturing units, it starts exporting to more than 40 countries. Being one of the top ten paper manufacturing companies, it has gained immense popularity.
4. Andhra Paper Limited
Andhra Paper Limited was established in the year 1964 as a leading paper mill in India. It is headquartered in Hyderabad, India. Presently, the company is engaged in the production of printing, copier paper, and writing paper for domestic and foreign markets. Being one of the largest pulp and integrated paper suppliers in India, it has earned a worldwide reputation. The company is managed and run by the Government of Andhra Pradesh and has an experienced workforce of 2000 employees. Andhra Paper limited specialized in making pulp and paperboard. With a turnover of around 640 to 700 crores, the company has made its mark barefoot in a very short period.
5. Seshasayee Paper and Boards Ltd
Formed in the year 1960 by Sri S Viswanathan, Seshasayee Paper and Board Limited are producing a wide range of products via its advanced manufacturing amenities.  The company inaugurated commercial production in the year 1962 and linked to The ESVIN Group. It has been awarded by the Government of Tamil Nadu, the Government of India, the Industry Association, and so on. It is one of the leading paper mills in India that has 50 years of experience in the paper industry. The company has a customer base in more than 25 countries. Its corporate office is situated in Erode, Tamil Nadu India.
6. JK Paper Ltd
Formed in the year 1966, it has aimed to produce premium quality paper at a lower cost via advanced technology. The company possess ISO certification for manufacturing a premium quality product. The production of JK paper LTD includes printing & writing papers, packaging boards, and speciality paper including MICR Cheque Paper, Cedar Digital, and Parchment etc. Having manufacturing units in different regions of India that include JK Paper Mills, Rayagada, Central Pulp Mills, and Songadh. It is a sought after company leading the branded copier paper segment market.
7. Kushal Limited
Kushal Limited is one of the biggest suppliers, producers and manufacturers of papers and paper products in India. Established in the year 2000, the company is widely provider of metals, minerals, chemicals, base oils, drug APIs, electronics & home appliances, capital goods, agriculture products, textile & garments, capital goods, and coal. It is the largest source of presenting English newspapers across the country. Supplying a large number of papers to India, the company has gained immense popularity and has been successful in employing thousands of workers.
8. West Coast Papers Mills Limited
West Coast Paper Mills Limited was formed in the year 1955; it is headquartered in Kolkata, India. It is one of the largest and oldest suppliers of paper for writing, printing, and packaging in India. The company is specialized in offering business stationery, premium printing papers, machine glazed varieties, and coated duplex boards. Apart from that, it also provides cup stock boards for folding box boards and paper cups for the packing fragment.
9. Emami Paper Mills Limited
The company first came into existence in 1981 to offer premium quality papers. Now, it has become one of the renowned paper mills in India. Being an essential part of Emami Group, the company has spread across the country with its three production units, PM1, PM2, and PM3. It is located in Odisha, Kolkata. The fact is that it is the second-largest newspaper in the world with over 22k newspapers, 1800 of which are daily. The mill is also known as the largest producer of newsprint. Over time, its paperboard production has earned a good reputation.
10. Satia Industries limited
Satia Industries Limited manufactures veneer waste, paper using wood chips, sarkhanda, wheat stray, etc. It is one of the largest agro-based and wooden based paper plants companies in India. Established in the year 1980, the company has started by Dr Ajay Setia and inaugurated commercial production in August 1984. The products manufactured by the company include snow-white, super snow-white, ledger paper, coloured paper, chromo paper, duplicating bond, cartridge paper, etc.
Conclusion
Over the years, the Indian paper business and manufacturers can be made more competitive. To support the wood-based paper industry, plantations should be done through various channels including industry, cooperative farmers and state governments.