Top 10 Best Lock Companies In India
Door locks have been around for quite a while now, and still, such conventional locks are far better than some modern security solutions. If there's no other entrance to your house or room, you just need a good reliable lock to secure it. Such locks are not considered a big deal in India, but if someone were to break into your home, a low-quality lock would not keep them out for long. Therefore, if you buy a lock next time, try buying a reliable and stronger one.
And to help you out with that, we're here with a comprehensive list of the top 10 best lock companies in India that you can trust. For the most part, you'll be good if you buy locks with the branding of these companies. So let's get going. Shall we?
List of Best Lock Companies In India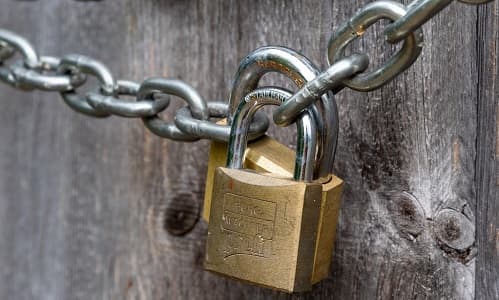 1. Godrej
Godrej is way more than just a home appliance company; it has spread itself to many sectors in India. The Godrej Group started its journey way back in 1897, and it has gained quite a lot of traction over the years. Godrej Group is now working in Aerospace, Defense, Chemicals, Agriculture, Furniture, Finance, Energy, Real Estate, and so many other industries right now. Locks & security solutions is a niche where Godrej also dominates the Indian market.
2. Dorset India
Dorset India makes one of the toughest locks for home security. This brand is fairly new in this lock and security system niche, but it certainly made it into the top five on our list because of the sturdiness of its final product. Not only that, Dorset India was awarded as one of the top 30 companies for the work environment, not just once but three times in a row. Since there are multiple facilities in Dorset in India, they have managed to create more than 2.5 million locks every year. Dorset India launches their products after testing them thoroughly, so definitely those products are the most reliable ones in the Indian market.
3. Link Locks
From conventional locks to modern binary or smart locks, Link Locks has got everything you need. But the majority of Indian audiences know Link Locks primarily for their traditional locks. This company is setting new standards for the sturdiness of the locks in the Indian market. Not only that, but this brand has set the pricing for most of their locks in quite an affordable range, so everybody can afford it if they are already looking for a good option.
4. Ozone India
Ozone is a well-known brand mostly for its digital or smart locks. And if you're looking for good and sturdy smart locks for your home, then make sure to consider Ozone India. Other than just selling locks, they are also one of the prominent sellers of kitchen and furniture fittings, bathroom fittings, digital safes, and other security solutions for household use as well as for businesses. talking specifically about the locks, you won't find anything to complain about Ozone locks. The locks from this company are perfect in every aspect, such as build quality, trendy design, price point, etc.
5. Yale
Again, similar to the previous lock company, Yale is also popular for its digital locks and security solutions. However, Yale locks are not that popular in the market because of other prominent brands, but locks from this company have huge potential. It's not like you can't get a conventional lock from Yale; you can, but we'd recommend if you're choosing this company, go for their digital options. It's because the digital locks and safes are quite good at the price point Yale has set.
6. Atom
There was a time when Atom locks were taking the Indian market by storm, but now the popularity of this company seems to be fading away. In our opinion, this is only because of the lack of trendy lock designs, but you won't find any issues with the sturdiness and reliability of Atom locks. The company seems to adopt the modern and trendy design needs of customers. Other than conventional door locks, you can buy other items as well, such as door knobs, handles, stoppers, door kits, etc.
7. Harrison
Certainly, Harrison Locks isn't as popular as Godrej or Dorset, but we can suggest this company for sure if you're on a budget but still need reliable locks. Harrison doesn't just manufacture locks; they also sell other items such as slides, hinges, screws, pantry systems, baskets, etc. People think that if they buy locks from any least popular brand, they won't be as reliable as the branded ones. This is somewhat true, but it doesn't apply to the Harrison Locks.
8. Jainson Locks
Whether it is about padlocks or main door locks, Jainson is a company we can recommend to someone who's on a tight budget but still wants modern design locks with the robust build quality. Jainson is getting quite a lot of traction in India because they're continuously introducing new security solutions. We like the digital locks from Jainson the most because not only are they the sleekest and finest as compared to other cheap ones, but the price point is fairly competitive as well.
9. Europa
We admit that Europa locks aren't the fanciest ones on the market, but still, they do their job quite well. Keep in mind that sometimes many companies just lure customers by showing and selling fancy-looking locks, but in reality, those locks are not that reliable. On the other hand, Europa sells reliability instead of looks. Another good thing about Europa locks is that you don't need to spend way too much just to get some locks installed for your home security.
10. Ramson
Last but not the least, we'd like to introduce another impressive company, Romson, which provides some of the best locks in India. We've added this company to our list primarily because of the versatility they offer. You can get all sorts of locks, such as cupboard locks, drawer locks, sliding door locks, mortice locks, etc.
These were our top 10 picks of the best lock companies in India. You can definitely go with any other local brand as well, but we're not sure about the reliability in that case. However, pick any lock from the above-mentioned companies, and you'll be good for the most part.