Top 10 Best CPVC Pipe Manufacturers In India
CPVC pipes are widely used in India due to their durability, strength, and ability to withstand extreme temperatures. From industrial processes to home plumbing, CPVC pipes are the go-to solution for a wide range of applications. And with so many manufacturers in the market, it can be challenging to choose the right one. But don't worry, we've done the hard work for you and have handpicked the most exceptional CPVC pipe manufacturers in India based on quality, affordability, customer service, and overall reputation.
Today, we'll take you on a journey to explore the top 10 CPVC pipe manufacturers in India, highlighting their unique features and selling points. So yeah, whether you're a contractor, plumber, or just someone looking to spruce up your home's plumbing system, this article is for you. Think you know everything there is to know about CPVC pipes? Think again! We've got some fascinating insights that you won't want to miss.
List of Top CPVC Pipe Manufacturers In India
1. Apollo Pipes Ltd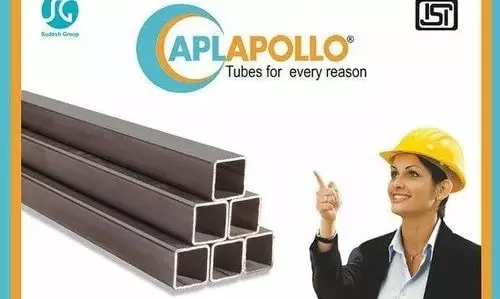 Apollo Pipes Ltd (APL) is an experienced and trusted CPVC Pipe Manufacturing company in India. For over 30 years, APL has been a leader in the industry and has witnessed strong growth in the pipe market due to its commitment to quality and innovation. APL owes its success to its talented team, and best-quality management practices. With its headquarters in Delhi, APL Apollo is a market leader in the funneling and related products segment. They are known for their top-notch products and robust distribution network. APL is known for its quick expansion of fittings in North India and is a leading manufacturer of PVC fittings. They manufacture CPVC, Plumbing Piping Solutions, SWR, and HDPE pipes, which are produced to national and international standards and supplied to the building and development sector.
2. Tirupati Structurals Limited
Tirupati Structurals Limited is a top-notch manufacturer of CPVC pipes, and they are all about innovation and product diversification. They have modern machines that ensure smooth and flawless production of their extensive range of quality-assured products, including UPVC, CPVC, and PVC pipes. To ensure their customers never run out of products, Tirupati Structurals Limited keeps large inventories. Tirupati Structurals Limited is all about quality, and they have the ISO 9001-2008 and ISI certification to back it up. Over the years, their focus on growth and exceptional quality has earned them a reputation as a reliable and trustworthy manufacturer.
3. Vectus Industries Limited
For more than thirty years, Vectus Industries Limited has been leading the way in providing top-of-the-line polymer-based Water Storage and Piping Solutions throughout India. They have built a reputation for producing high-quality products that use the latest technologies, which have improved the lives of millions of people across the country. Vectus takes pride in offering a one-stop solution for all water storage and transfer needs, including water tanks and plumbing systems. However, their expertise lies in manufacturing CPVC pipes. They are committed to providing products that effectively transfer water while staying up-to-date with the ever-changing needs of their customers.
4. Singhal Pipes Pvt Ltd
Singhal Pipes Private Limited is a company that's all about providing technically advanced pipes and fittings to customers throughout India. They're proud of the relationships they've built with clients, vendors, and distributors, and they're committed to offering top-quality products, fair pricing, and sound business practices. Their products meet international standards and undergo strict quality checks with the guidance of a professional team. That means they always deliver on time and stick to the specs you need. All in all, Singhal Pipes Private Limited is a name you can trust when it comes to CPVC pipe manufacturing.
5. Astral Pipes
Astral Pipes is an Indian company that has been manufacturing CPVC pipes for over 25 years. Their aim is to provide top-quality plumbing and waste systems to households across the country while contributing to the nation's infrastructure development. The company has several advanced production facilities across India, which enable them to cater to the diverse needs of different markets. One of Astral Pipes' unique strengths is its backward integration capabilities for CPVC compounding. On top of that, to ensure that every product meets the highest quality standards, Astral Pipes uses the SCADA system for real-time monitoring and control of the production process.
6. Skipper Limited
Skipper Ltd. is a top-notch CPVC Pipe manufacturing company that started its journey in 1981. Over the years, the company has grown and become a renowned manufacturer of Transmission & Distribution Structures. Their expertise and excellence in executing critical Infrastructure EPC projects have made them a trusted partner for many clients. Skipper Ltd. has made a name for itself not only in India but also globally, with a market reach of more than 40 countries worldwide. Customers have come to prefer them as their manufacturer of choice, and it's no surprise given their exceptional products and services.
7. Jain Irrigation
Jain Irrigation has an impressive production capacity of over 3,00,000 metric tons per year, producing pipes in different pressure ratings and diameters ranging from 3 mm to 1600 mm. They are the only manufacturer in the industry with a DSIR-approved R&D facility, allowing them to develop state-of-the-art products that meet the evolving needs of its customers. They also provide CPVC plumbing pipes and fittings that are designed to cater to hot water applications, offering efficiency, economy, and durability.
8. Savior Faire Manufacturing Company
Savior Faire Manufacturing Company (SFMC) is a top-notch manufacturer of PPR, CPVC, PVC pipes, fittings, and other plastic products in India. Quality is paramount to SFMC, and they leave no stone unturned to maintain it. They use the latest equipment and comprehensive quality control measures during production to ensure consistently superior quality in their piping products. They focus on innovation and customer satisfaction, making SFMC a trustworthy name in high-quality piping solutions.
9. S P Industries
S.P. Industries is a top-notch CPVC Pipe Manufacturing company that has been in the business since 1960. They specialize in producing the most durable and finest quality CPVC Pipes, and other fittings solutions and they're known for their excellent work in the manufacturing, wholesaling, trading, and retailing of these products. At S P industries, they only use the best materials and cutting-edge tools and machinery to make sure their products are strong, long-lasting, and can handle any challenge. S.P. Industries is proud of its reputation for quality, and its customers are too. They know they can rely on the company's products to be durable, reliable, and of the highest quality.
10. AKG Industries
Lastly, AKG Industries is a company that specializes in manufacturing top-notch CPVC pipes, fittings, profiles, and other plastic products. Since its establishment in 1986, AKG Industries has been providing its customers with high-quality products for over 35 years. As a leading producer of pipes, fittings, and other molded products, AKG Industries offers a wide range of plastic products that cater to a diverse set of applications. If you're looking for a reliable and trusted manufacturing company to meet your CPVC pipe needs, in our opinion, AKG Industries is the way to go.
Conclusion
That'll do it. Now you have your hands on a brief list of the top 10 best CPVC pipe manufacturers' list. So whether you were looking for a reliable brand to buy CPVC pipes, or just wanted to dig a little deeper to find some manufacturers to invest in, we hope that our post has served the purpose for you.
How To Choose The Best CPVC Pipe
Buying the "BEST" CPVC pipe for your project isn't as easy as you might think. There are certainly a lot of things to consider, and that is what we are onto today. So yeah, let's get started with that right away.
Thickness (Schedule)
So, first off, let's talk about "schedule," which is just a fancy word for how thick the pipe is. You'll usually see numbers like SDR 11 and SDR 13.5. Think of it like this, the lower the number, the thicker and tougher the pipe. Simple as that. Need something for high-pressure situations? Go thick. Just looking for a simple water line? A slimmer pipe might do the trick. Just make sure you know what you need the pipe to handle before you decide.
Diameter
You'll find CPVC pipes come in all sorts of sizes, from as small as a 1/2 inch to a whole inch and even more. The size you pick is pretty much tied to how much water you want to move. Big operations like factories might go for the larger sizes, but for your typical home plumbing job, a 1/2 inch or 3/4 inch should do just fine. Keep your project specs in mind, and you'll be good for the most part.
Pressure Ratings
Now, let's talk about pressure ratings. This is the maximum amount of pressure your pipe can handle without having a meltdown. You'll usually see this measured in PSI (pounds per square inch). The last thing you want is a pipe bursting on you, right? So double-check the pressure needs of your project and make sure the pipe can handle it, or better yet, exceed it.
Temperature Ratings
Then there are temperature ratings. One of the cool things about CPVC pipes is they can stand up to a wide range of temperatures without warping or melting on you. So if you're looking to use these for a hot water line, make sure the temperature rating is pretty good. No one wants a melty pipe disaster, right?
Chemical Compatibility
CPVC pipes are pretty chill with a lot of chemicals, so they're a go-to for things like chemical pipelines. But heads up, they're not the best bet with every chemical out there. So, do yourself a favor and check out the manufacturer's cheat sheet on what's cool and what's not. You don't want your pipes turning to mush or something worse, right?
UV Resistance
CPVC is pretty tough when it comes to the elements, but leave it out in the sun too long and it's gonna start feeling the burn, quite literally. If you're thinking about putting these pipes outside, some brands offer UV shield which is like a protective layer on these pipes. And that is certainly something you'll wanna think about that.
Cost Per Foot/Meter
So, what's this all gonna cost you? Well, that depends on a few things like how big and thick you need your pipes to be and who's making them. Buying a whole bunch at once might score you a discount, so keep that in mind. And don't just grab the first deal you see, shop around a bit to make sure you're getting the best bang for your buck.