Top 10 Best Industrial Gloves Manufacturers In India
Have you ever thought about the importance of industrial gloves in various industries, including manufacturing and construction? These gloves provide a crucial barrier between workers' hands and potential hazards, such as chemicals, cuts, and abrasions. They help to reduce the risk of injuries and infections and ensure that workers can perform their tasks with ease and confidence. A good pair of gloves should offer not only protection but also comfort and flexibility.
In India, the safety equipment-making industry has been experiencing steady growth in recent years, driven by increasing demand for PPE and safety products across various sectors. As more businesses focus on worker safety and regulatory compliance, the industrial gloves market in India is expected to expand significantly in the coming years. And in this list of the top 10 industrial gloves manufacturers in India in 2023, we take a closer look at the key players in this industry. So let's get going now.
List of Top Industrial Gloves Manufacturers In India
1. Unique Udyog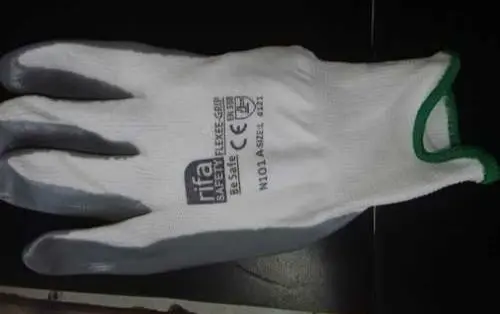 Unique Udyog is a well-known provider of Personal Protective Equipment and especially industrial safety gloves for workers. Since its founding in 2000, the company has developed a reputation for offering a diverse range of high-quality safety gear, including Leather Hand Gloves, Industrial Grade Gloves, Cotton Gloves, Welding Leather Apron, and more. Under the leadership of CEO Mr. S. Arif, Unique Udyog has experienced rapid growth and established itself as a trusted name in the industry. To ensure the highest level of quality and durability, Unique Udyog only uses genuine leather that strikes the perfect balance between softness and stiffness.
2. Unique Industries
Unique Industries is an industrial glove manufacturer located in Andhra Pradesh, India, operating since 2011. The company produces, distributes, exports, imports, and trades various industrial products, including leather goods, rubber goods, fire safety equipment, and power tools as well. The Unique Industries team engages in open dialogue with their clients to understand their requirements and exceed their expectations. The company is owned by Mr. Huzefa, who oversees all its operations, ensuring that the company provides quality products and excellent customer service. The company acknowledges that machine-sewn gloves may be different in quality, which is why they utilize different processes to make women's leather gloves. Their skilled craftspeople even stitch gloves together inside out to make them look handmade.
3. Burhani Enterprises
Burhani Enterprise is a leading industrial safety product provider that has been operating since 2011. They offer a broad range of safety products, such as surgical caps, rain suits, safety goggles, finger coats, earplugs, and other 3M safety products, among others. Burhani Enterprise takes great pride in its production process, paying close attention to every step to ensure that the products are of the highest quality and durability. One important aspect of their manufacturing process is the Baguettage step, which ensures a comfortable fit for the finger seams of their leather gloves. This ensures maximum protection for the wearer, making their gloves a popular choice among industrial workers.
4. TS Enterprises
TS Enterprises is a relatively new player in the industrial safety product scene, but it has already made a name for itself as a manufacturer, trader, and wholesaler of essential items such as gloves, masks, and footwear. They have been in business since 2020 and are fast gaining popularity for their top-quality products. When it comes to gloves, TS Enterprises understands the importance of getting the right fit. They go the extra mile by testing gloves on warm hands to ensure that there are no uncomfortable seams or folds. Furthermore, they tailor gloves to fit each individual wearer's hand dimensions perfectly. This attention to detail ensures that all workers, regardless of hand size, can enjoy gloves that fit snugly and comfortably.
5. Balaji Industries
Balaji Industries has been a leading manufacturer of Industrial Gloves since it was established in 1973. Their top-notch products are produced and supplied by a team of skilled experts who use only the finest materials from reliable suppliers. They have a team of experienced professionals who manage and supervise all aspects of their infrastructure and commercial activities, ensuring that everything runs smoothly and efficiently. The secret to Balaji Industries' success is its culture of collaboration, where its specialists work closely together to ensure that the firm meets its objectives effectively and on schedule.
6. Oriental Enterprises
Oriental Enterprises is a company that takes pride in providing quality safety equipment. They have been in the industry since 2006 and are based in Thane, Maharashtra, India. They offer a wide variety of products, including goggles, helmets, face masks, and of course leather gloves. Oriental Enterprises understands the importance of efficiency in delivering its products. They regularly update their machinery and have a dedicated supply team consisting of procurement agents, quality controllers, sales and marketing, and delivery workers to ensure everything runs smoothly. Also, Oriental Enterprises continues to be a trusted source of safety gear, always putting the safety of its customers first.
7. V. Puri & Associates
Puri & Associates has been in the business since 1990 and is based in Ludhiana, India. They're experts in welding equipment, safety gear, and road safety items too. They've got all sorts of fancy machines and a team of skilled workers who know their stuff. The leather gloves they make aren't specifically designed to be worn with certain gloves, which makes them stand out from other companies. Before the gloves are done, they trim the leather to fit perfectly with the gloves' specifications, and then they're pressed in a hydraulic machine. This process ensures that the gloves are strong, comfy, and stylish too. V. Puri & Associates takes pride in their work and wants to make sure their customers are happy with what they're buying. That's why they're one of the most trusted names in the Industrial Gloves business.
8. Omkar
Omkar Safety Industries Pvt Ltd is a company that specializes in making industrial gloves and other safety products. They've been around since 2016 and have quickly become a popular choice for people who need quality safety gear. They make all sorts of gloves, including ones made of leather Kevlar, welding leather, and heat-resistant materials. What's cool about Omkar Safety Industries is their team of highly skilled engineers and technicians. They work hard to make sure that every product they create is top-notch. From the design phase to the final product, they put a lot of thought into everything they make.
9. Chosh Exports Private Limited
Chosh Exports Private Limited is a PPE manufacturer and supplier that has been in business since 1989. They have over 30 years of experience in the industry and are known for manufacturing high-quality leather gloves and protective clothing. They use modern equipment and have highly skilled professionals who are dedicated to ensuring that the quality of their products is always improving. Their product line includes industrial workwear that is suitable for harsh conditions, including jackets, leather blankets, arm guards, and even trousers.
10. EssBee
Lastly, we'd like to introduce another fairly recently established industrial gloves manufacturer EssBee. Since its establishment in 2016, they've become a well-known company in its industry, and its reputation speaks for itself. It's the personalized touch that sets EssBee Impex apart from its competitors. They're committed to delivering tailored solutions that suit their customers' exact requirements. When it comes to quality, they're uncompromising. From selecting the best materials to utilizing cutting-edge technology and equipment, EssBee Impex ensures that its customers receive top-quality products.
Conclusion
So if you were in need of a good pair of industrial-grade gloves, then these are the top brands or manufacturers you should consider when buying industrial gloves in India. However, we'd suggest you dig a little deeper to find out more about the process and materials being used by these manufacturers to make gloves. That way you'd know better what to expect.
How To Choose The Best Industrial Gloves
How about a quick industrial gloves-buying guide? Well, that is what we are onto now. Here you'll see the top considerations of the experts in buying the best industrial gloves as per your needs and budget as well.
Types of Industrial Gloves
Well, before you rush off to snag a pair of industrial gloves, hold up a sec! You gotta know what you're diving into. Gloves are like shoes because one size does NOT fit all. For the doc-in-the-making or the light-duty worker, disposable gloves made from latex or nitrile are your go-to. If you're more of a mad scientist handling chemicals, aim for the nitrile or neoprene types to avoid getting an unexpected "burn notice." If your job involves cutting stuff, you'll want cut-resistant gloves made from Kevlar or metal mesh. Electricians, listen up! Rubber gloves are your best bet against electric shocks. And if you're gonna be around hot stuff, like hot metal or steamy liquids, you'll want heat-resistant gloves, usually crafted from leather or aramid.
Material Considerations
The stuff your gloves are made of can make or break your day, seriously. It influences everything from how long they'll last to how well they'll shield you from hazards. We're talking about materials like latex, nitrile, neoprene, leather, Kevlar, and even polyurethane. The trick is matching the glove material to your job. Like, if you're messing around with chemicals, leather gloves just won't cut it, you'll want nitrile or neoprene.
Fit and Comfort
An awesome glove is only awesome if it fits you like a second skin. A sloppy fit is a recipe for disaster, it's not just uncomfortable, but it can also mess with your work and even be a safety hazard. To get your size right, measure your palm at its widest point and match it up with the manufacturer's sizing chart. And if you're gonna be wearing those gloves for hours on end, look for extras like breathability and moisture-wicking features. Some even come with cushioned palms or knuckle guards.
Functionality
Alright, let's talk about what your gloves actually need to do for you. There are three things you should consider for that, which are grip, sensitivity, and cuff-style. If you're gonna be splashing around in oil or water, you need something that's gonna stick, not slip. And what about doing something like electrical work? You'll want gloves that let you feel like you're almost not wearing them at all, right? That's why sensitivity is the key here. Now, about those cuffs,  well, safety cuffs are your get-out-of-glove-quick option, knit wrists give you that comfy, and cozy fit.
Industry-Specific Needs
See, the perfect glove for someone in healthcare isn't gonna be a hit on a construction site. Different gigs have different needs. In healthcare, you'll probably be tossing your gloves after one use, so you need something that fights off germs and chemicals. Construction? You need gloves that are tough as nails, quite literally. So know your field's glove game to make sure you're not left hanging.
Budget Considerations
Well, we all love a good deal, but don't skimp where it matters. Sure, those bargain-bin gloves might look tempting, but your hands deserve better. High-quality gloves might cost more upfront but think of it as an investment. They last longer and protect you better, so you're actually saving money in the long run.