Top 10 Best Agarbatti Companies in India
Incense Sticks known as Agarbatti are one of the essential worship materials of all religions like Hindu, Punjabi, Christian, Muslim etc. They are built of aromatic materials that release these aromas when burned. It is believed that worship is incomplete without Agarbatti and our prayers reach God with the help of incense sticks.
Due to containing natural ingredients, they help relieve the mood and calm the mind. In addition, they are often used in many ritual ceremonies or auspicious occasions due to Indian traditions and culture.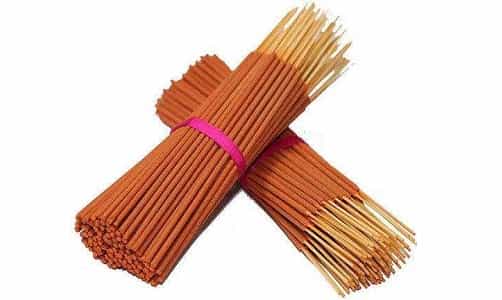 When you use premium quality incense sticks, you will get benefits that are good for your health as well. There is a range of fragrances available to choose from, comes in many categories and available both online and offline. Many brands are developing in the manufacture and supply of incense sticks all over India. Some of them are as follows:
List of  Top Incense Sticks Brands in India
Patanjali Agarbatti
Cycle Agarbatti
Moksh Agarbatti
Zed Black Agarbatti
Mangaldeep Agarbatti
Hem Agarbatti
Hari Darshan Agarbatti
Mysore Sandal
Blue Aroma
Tatva Yoga
1. Patanjali Agarbatti
In a very short period, Patanjali has earned wide popularity and reputation in the Indian market. The company spreads its roots in various parts of the country for the manufacture of beauty, skincare, everyday care, and worship and dairy products. They engage in providing organic and chemical-free products.
Similarly, the incense sticks offered by Patanjali are full of natural ingredients that, when burnt, provide positive energy. They do not create any suffocating smoke and ensure a soothing effect around you. Being one of the genuine and affordable brands, their incense sticks sales are quite impressive. What makes Patanjali different is that they offer a wide range of fragrances.
2. Cycle Agarbatti
Another brand that has been gaining popularity in India for a long time is Cycle Incense sticks. They are India's largest and leading manufacturer as well as supplier of incense sticks. Established in the year 1948, they are popular for specializing in manufacturing natural, scented and eco-friendly packs of incense sticks. Mysore based incense sticks brand was founded by Shri N. Ranga Rao, and it is gaining a lot of fame and name across the world. A cycle is a great and innovative brand.
3. Moksh Agarbatti
Moksha Agarbatti is a popular name that has earned trust, goodwill and respect due to being in the industry of incense sticks. Established in the year 1996, this company has some great scented incense sticks that will leave you with positive energy.
With over 30 scents of sandalwood and rose, you will have a plethora of options to choose from. Founded and Operated by Mr Anand Kumar Ashiya & Mr Sesh Kiran Ashiya, the company have become the most popular and trusted brand presently. The brand offer aroma sticks in various flavours, which are loved and appreciated by the users.
4. Zed Black Agarbatti
When it comes to leading brands of incense sticks, Jade Black incense sticks have earned prestige and popularity. Its headquarter is located in Indore and it is a well-known brand which has spread its roots in more than 10 countries. Their Agarbatti has a long-lasting odour which would amaze you.
5. Mangaldeep Agarbatti
Being an essential part of ITC Group, Mangaldeep is gaining a lot of reputation. Since its foundation, it caters to the needs of the users by offering a variety of fragrances in its incense stick packs. It is a brand that is considered to be the best for manufacturing eco-friendly and natural fragrances. With their five manufacturing units, they are engaged in supplying various fragrances across India. They have some captivating scents and fragrances like sandalwood, tulips, rose, sunflower, lavender, and more.
6. HEM Agarbatti
It came into existence in the year 1983 with its headquarters in Mumbai, the state of India. What makes it different from others on this list is its handmade incense sticks. This is a very reputed and renowned brand all across India for manufacturing as well as supplying dhopps, cones and Agarbatti. They have been showered with accolades and love all across the world for their wide range of products, which makes it the most trustworthy brand the world over. Moreover, HEM has been honoured as the "top exporters" by the Export Promotion Council for Handicraft.
7. Hari Darshan Agarbatti
Being one of the largest and most well-known providers of incense sticks, the Hari Darshan brand earned both name and fame from people across the globe. Hari Darshan Agarbatti was established in the year 1980 as a leading brand that comes with pure ingredients. They engage in providing you with fragrances and scents that will release positive energy into your home environment.
8. Mysore Sandal
Mysore Sandals Agarbatti is offered by a well-known brand named Karnataka Soaps & Detergents Ltd. Their wide range of incense sticks is infused with high-quality bamboo, which ensures pure and long-lasting fragrance. They calm the atmosphere inside and also keep your mood and atmosphere calm. Mysore sandalwood incense sticks are also popular for curing depression, headache, sadness and concentration power. By using these sticks, you can keep yourself away from sorrow and worry.
9. Blue Aroma
Blue scented incense sticks are ideal for aromatherapy, meditation, worship and yoga. These fragrances give long-lasting comfort to your environment as they are extremely durable and long-lasting. People who do not like strong smell incense sticks should consider this brand. Along with giving a mild fragrance, the cost of each pack of incense sticks is also low. Popular fragrances offered by blue fragrance include nectar, jasmine, ritual, herbal, yoga, etc.
10. Tatva Yoga
Tatva Yoga Agarbattis come in a wide range of scents and fragrances that excite the environment. These incent sticks are certified by IFRA and help in healing. There are many fragrances offered by Tatva yoga, including Rose, Sandal, Jasmine, Kewra, Must, etc.
Final Words:
Be it morning or evening prayers or to keep the atmosphere full of positivity, you will find incense sticks everywhere. They are often found in therapy, spas or mediation centres because of the aroma they provide. In meditation, incense sticks play an important role in keeping the surroundings calm during concentration.
How to Choose the Best Incense Sticks (agarbatti)
Agarbattii, or Indian incense, has been burned throughout India for religious and spiritual purposes for thousands of years. These incense sticks are revered for their deep aroma, which is said to inspire devotion. Indian incense, in contrast to Japanese incense, typically has a bamboo stick inserted down the middle. White bamboo is utilized by the vast majority of reputable vendors because it doesn't compromise the scent or cause excessive smoke.
Popularity of Indian Incense
India's most popular incense is masala stick. Masala incense sticks are bamboo wrapped in a thick resinous mixture and scented essential oils. Charcoal, amber resins, sandalwood, cedar wood, vanilla, and certain gums are all examples of substances that can be used as bases. The ratio of basic materials to aromatic components determines the final product's quality. It's recommended to use incense sticks that have been hand-rolled rather than dipped. Champa incense sticks, which contain Halmaddi, are a subset of the Masala family of incense. This binding component is known for its pleasant floral aroma and its resinous consistency. So here is the guidance of how to Choose the Best Incense Sticks (agarbatti).
Tips to Choose the Right Incense Stick
What makes picking the "right" incense sticks so important? The proper one will set the tone for the entire house, make burning easier, and lengthen the time you enjoy the incense's scent. When selecting an incense stick, keep these things in mind.
1. Check List of Ingredients
The finest incense sticks will contain only natural ingredients including resin, dried plants, dried herbs, essential oils, and fragrances. You'll get greater results and a nicer scent from using natural products, and you'll reap health benefits as well. One of the main reasons to light an incense stick is to bring oneself closer to nature via the use of aromatic plant materials. However, artificial or synthetic substances may not only mask the scent but also pose health risks.
2. Observe the Smokey Outcome
Think on how smokey you want your incense to be. If the space is larger and has plenty of windows or a strong ventilation system, for instance, you can get away with a more robust incense stick. However, sticks that produce more smoke should be avoided in a small or medium-sized room with only one or two windows. The best smoke factor to use might also be determined by the time of day or the nature of the event.
3. Does it Serve Various Needs, Various Types?
Incense can be purchased in many various shapes and sizes, including sticks, cones, and even paper. Paper incense, for instance, might be ideal if you're trying to evoke the gentle morning freshness. Paper incense produces minimal smoke and has a mild fragrance during its brief five-minute burn time. Only the long incense sticks can keep their aroma going strong all day. However, the cones are ideal for one- or two-hour events or rest and leisure.
4. Pick Your Favorite Scent or a Signature Scent
When selecting an incense aroma, it's crucial to recall pleasant associations with the occasion or state of mind you hope to achieve. It's fun to experiment with several fragrances, but try to settle on one that you can wear often. This will help to establish your home's individual character and ensure that your guests leave with lasting memories of its aroma. When experimenting with smells, start with the most popular ones—there must be a reason for their popularity.
Conclusion
Incense sticks are trickier than they seem. Before buying incense, decide what you want. Incense should be chosen based on type, duration, furnishings, room size, and event mood. Knowing a little about incense sticks, you can find your favorite scent. With so many options, incense can be overwhelming, but we hope this brief introduction will help you find your way.