Albertsons Company Net Worth, History, CEO, Headquarter, Origin Country
Alright, now's the time to see what the history of Albertsons company holds, spoiler alert though, it's gonna be super interesting actually. Well, for those of you who don't know, Albertsons was started as just a single store in Idaho, but now? Yeah, you're right, right now they have more than a thousand stores all across the nation. We know that it is pretty easy to keep on thinking about how Albertsons became this big of a name. If that's the case with you, then you should keep on reading. That's because here we will be going on a little detour to see how this company started, who started it all, what has gone in the making of this company, where they stand financially in 2023, and a whole lot more. So yeah, let's get going now.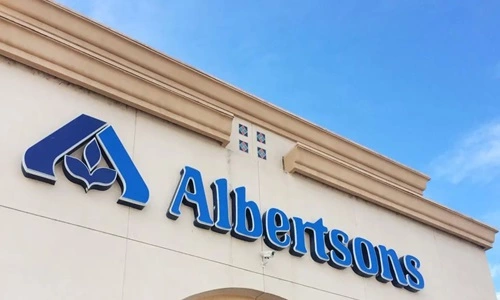 | | |
| --- | --- |
| Albertsons Origin Country | United States |
| Established Year | 1939 |
| Headquarters | Boise, Idaho, U.S. |
| Albertsons CEO | Vivek Sankaran |
| Albertsons Founders | Joe Albertson |
| Albertsons Net Worth | $12.10 billion (As of November 2023) |
| Industry | Retail, Grocery |
The Albertsons Story
So, way back in 1939, Joe Albertson, who used to manage Safeway stores, began everything for this company from scratch. In the early days, Joe collaborated with L.S. Skaggs and they started what turned into a big deal in grocery shopping. And yeah, the first Albertsons was a real hit, with stuff like free parking and even an ice cream shop. It was the biggest and fanciest food store in Idaho, right there at 16th and State Streets in Boise. The first store did so well, that Joe quickly opened more in nearby towns like Nampa, Caldwell, and Emmett. And just like that, by 1960, they were running 62 stores in four states. As time went on, Albertsons started opening stores in California and Colorado too. And in 1969, Albertsons and Skaggs Drug Centers teamed up for a new idea: stores that sell both food and drugs. It was a big hit, but they split up in 1977, some issues with who's in charge, you know?
Albertsons Financials
Alright, now's the time to take a look at where this giant company stands in terms of financials aka money-wise. Spoiler alert though, it's quite something! In 2021, they made $71.9 billion. Yes, billion! But yeah, it wasn't always smooth going like this for them. Nah. Before 2015, Albertsons had around 1,075 stores. Then they merged with Safeway Inc., spending $9.2 billion. Big move, huh? This made them even bigger in the grocery world. Jump to October 2022, and here's another twist. They planned to join up with Kroger for $25 billion. That's a game-changer, shaping the future of supermarkets in North America. And the big question: Albertsons' net worth as of November 2023? It's about $12.10 billion. At first, it might not seem like a big number looking at the net worth of other big names in the same niche or sector. But you've gotta keep in mind how Albertsons started, how it became this big of a name from just one store in the country to having more than a thousand now.