How To Make GVMC Property Tax Online Payment?
Many people don't pay property taxes on time, it is not because they don't have enough money to pay property tax bills, but it is primarily because they didn't have enough time to visit the municipal office physically. And that is why paying property taxes online has become such a revolutionary thing in India. After digitalization happened in India, many states, as well as union territory governments, decided to implement online portals for collecting property taxes. And we all know how that turned out. Don't we? Now paying property taxes like GVMC property tax has become super easy. But people still face issues when paying property taxes online. Therefore we are here to help you with how to make GVMC property tax online payments without needing to visit the local municipal office.
What Is GVMC Property Tax?
GVMC is actually short for Greater Visakhapatnam Municipal Corporation, which is responsible for collecting property tax from the general population of Visakhapatnam. And the total tax collection is used to form a budget to utilize in upgrading and maintaining the infrastructure and providing civic services to people living in Visakhapatnam.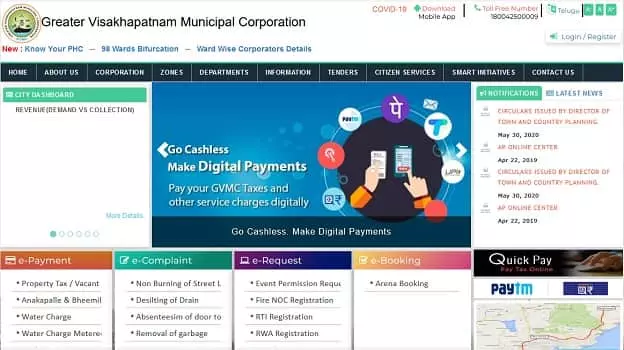 How To Pay GVMC Property Tax Online?
Using the GVMC online portal, you can easily pay your property tax if your property is situated in Visakhapatnam. Here's a step-by-step guide on how to pay your GVMC property tax online:
First of all, open your browser, type "GVMC Property Tax" in the search bar, and hit enter. The very first search result that comes up, will be the official web portal of GVMC. Or you can visit this link

https://www.gvmc.gov.in/wss/

to directly land on the GVMC web portal.
We would recommend you first login into your GVMC portal account. For that, simply click on the "Login/Register" button on the top right-hand side of the screen.
After that, come back to the official website of the GVMC, and check out the bottom left area of the website where you will find the "e-Payment" column. Under this column, the first link will be "Property Tax/Vacant," simply click on that to proceed next.
Now another tab will load in your browser, this time, you'll see four input boxes on the screen where you need to submit the Assessment Number, Old Assessment Number, Owner Name, and Door Number. Just fill out all the required details and hit the submit button to fetch the tax information about your property from the database.
In the next step, you'll be able to see your property tax details on the screen, and the total due amount. Simply click on the "Pay Tax" button to proceed next.
After you click on the Pay Tax button, you'll land on the online payments page, where you'll be able to see the total payable amount and a bunch of payment getaways to choose from. Choose any of your preferred payment methods, and complete the transaction accordingly.
Once the transaction is complete, and the success message is prompted on the screen, you'll automatically be redirected back to the GVMC website.
When you will land on the official GVMC website after completing the transaction, you'll see the successful transaction message on the screen along with the transaction ID and a few other information.
Note:
Whenever you are paying GVMC property taxes online, make sure that you visit the official website of GVMC. We're saying that because there are many websites on the internet that rank higher in the search results for the search term "GVMC Property Tax." And that's why if you don't pay attention to which website you are visiting, such fake websites can easily steal your login credentials. We have provided you with the official website of  GVMC, so make sure to consider that link and always keep an eye on the websites' URLs you are visiting on your devices.
How To Download the GVMC Property Tax Receipt?
There are actually two ways to download the GVMC property tax receipts on your device. First of all, if you have just completed the GVMC property tax online payment, then after the success message on the payment merchant's website, you'll be automatically redirected to the GVMC online portal. And after you are redirected to the official GVMC portal, then you'd see a success message on top of your dashboard as well. There will be an option to save or download the GVMC property tax receipt, by clicking that link/button the receipt will automatically start downloading on your device. In the second method, you'd have to log in to your GVMC dashboard, and then find the "Property Tax/Vacant Land" option under the e-Payments dropdown. By default, you'll be on the Payments tab, where all your previous tax payments will be listed. From there, you can download the GVMC property tax receipts pretty easily.