Top 10 Best Two-Wheeler Tyre Companies in India
Travelling in the Indian Territory can be troublesome if your vehicle is equipped with poor tyres. There are a lot of aspects relying on the quality of the tubes and tyres of your vehicle.  Alongside the bike mileage, your overall safety depends largely on the type of tires your vehicle is attached with.
However, the tire is the only object that creates a seamless connection between your bike and the road. Therefore, you need to make sure that the tire in your vehicle is well built and designed to provide you maximum safety and ride comfort. The higher the quality of the tires, the longer the vehicle will last.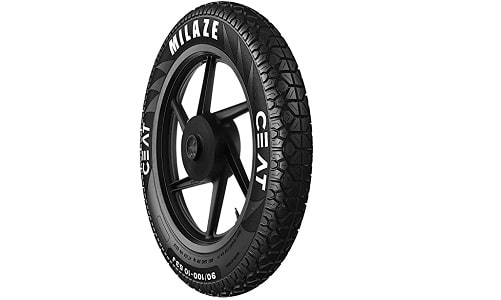 Therefore, it is appropriate to check out the product's quality, sustainability, performance & durability before making a final choice.  To help you choose the best tyres for your two-wheeler, here we have listed India's top 10 best two-wheeler tyre companies. Let's quickly take a look:
JK tyres
Continental
Michelin Tyres
MRF Tyres
Apollo Tyres
CEAT Tyres
Bridgestone
Dunlop Tyres
Goodyear
Pirelli
1. JK Tyres
JK Tires ranked amongst the top 25 tire producers as well as manufacturers in the world. It is one of the leading tire manufacturers in India. Established in the year 1974, JK Tires is headquartered in Delhi, India. It also has 5 manufacturing subdivisions in India, spread over different parts of the country, including Haridwar, Mysore, Kankroli and Benmore. Being a respected and trusted tire manufacturer, it has evolved over the past few decades.
And, it is the only company across the world that offers a complete range of Radial Tires for all types of 4-Wheelers including Lorries, Automobiles, Buses and other Commercial Vehicles. With have its existence in 80 countries, the brand has earned a reputation and fame.
The company manufactures tires for four wheelers, two wheelers and other vehicles. JK not only provides pocket-friendly products to meet mileage-worried customers, also performance tyres to meet the requirement of advanced motorcycles. The best seller bike tyres of JK tyres include Blaze BR41, Blaze BF11, Blaze BF32, Blaze Ryder BR43, and many more.
2. Continental
 Continental is a global company, established in 1871 and is based in Hanover. This German tyre manufacturer engages in the production of safe, performance-oriented, and efficient tyres for commercial vehicles, passenger cars, and two-wheelers.  With a range of products suitable for use in an array of applications and conditions, Continental has become one of the sought-after leaders in tire production and tire technology.
The brand purchased a massive stake in Temic, Daimler Chrysler's automotive electronics business. Moreover, the company occupy more than 2 lakh employees in over 60 countries and registered sales in crores in 2017.  But, their cost in India is relatively high compared to the likes of Michelin and Bridgestone.
3. Michelin
 Michelin is an international leader in tyre manufacturing as well as supplier and plays a major role in the Group's performance and growth. One of the major aims of Michelin's is to use innovation and technology to design its services and products stand out. It is one of the top tyre companies in India and is located in Clermont-Ferrand, France.
With its presence in over 170 countries, the company has managed to employ over 1,00,000 people.  It has operated 70 manufacturing plants worldwide to produce about 180 million tires in 2017. The French-based firm is also known as BFGoodrich, Tigar and Uniroyal tire brands.
Leading car manufacturers like Hero MotorCorp, Bajaj Auto, Indian Yamaha Motor, and others have a strong business relationship with Michelin. Formed in 1889, Michelin is the most popular tyre brand among drivers worldwide, specifically in India.
4. MRF
MRF is one of the ancient as well as one of the major flagship enterprises headquartered in Chennai, Tamil Nadu. It is an in-demand tire manufacturer, supplying tires for buses, tractors, Lorries and off-road vehicles, and manufacturing tires for passenger automobiles.
Apart from manufacturing Tyres, MRF is engaged in offering Rubber Toys and Conveyor Belts. Established in 1946 as a balloon manufacturer, it later became the best tire company in the world. With production plants in Tamil Nadu, Goa and Kerala, the MRF leg has increased substantially. All production subdivisions are equipped with state-of-the-art technology. More than 60 countries around the world are permanent members of the MRF.
5. Apollo
The world's 17th largest tire manufacturing company, Apollo was established in 1976 in Gurgaon, Haryana. It is a well-known tire firm in India and a major tire supplier in many European countries. With its existence in 120 countries, it is counted among the top 10 tire brands. Apollo offering a range of tires for trucks, light trucks, passenger vehicles, bicycle tires and off-road. The Gurgaon based tire company employs over 10,000 people, and as a leading tire brand covers almost Indian and European markets.
6. CEAT Tyres
Founded in 1958, it has formed itself as one of the prominent manufacturers of heavy vehicles and light tools and tyres. CEAT has R&D sites in 26 countries and subdivisions in over 150 countries. It has a huge impact on the global market for offering quality products. The Mumbai based tyre manufacturer has six production sites spread across the different parts of the country. CEAT produce tyres for numerous vehicles, including Lorries, motorcycles, automobiles, buses, SUVs, and auto-rickshaws.
7. Bridgestone
Bridgestone is a Japanese tire company with a presence in India and is one of the top leading tire brands. Established in 1931, Bridgestone has R&D centres in 26 countries and operations in more than 150 countries, with two major operations centres in the Indian states of Pune and Indore. The company is popular for its diverse products and automotive components such as tires, engine mounts, seat pads, etc.
8. Dunlop Tyres
 Also known as the Chosun Tire Company, the firm formed in 1888. Later, its name was changed to Dunlop. In addition to being engaged in the manufacture of automobile tyres, Dunlop produces a number of competition go-karts, commercial vehicles, motorbikes and tires for ATVs. The company has earned worldwide popularity in tire manufacturing based on the promise of technology.
9. Goodyear
Goodyear is the renowned manufacturers in the tyre industry. It was established in 1898 in Akron, Ohio. The company produce tyres for numerous items, including racing cars, trucks, vehicles, aeroplanes, heavy earth-moving machines, and agriculture equipment. With two plants in Ballabhgarh and Aurangabad, the firm has been in India for almost 90 years. This company is popular for building premium-quality tyres with all the qualities you wish in a tyre.
10. Pirelli
Pirelli is an Italian Tyre maker, and amongst the top ten tyre brands in India. The company was established in 1872 and is based in Milan. With an existence in 12 countries, it is one of India's leading tyre manufacturers. Pirelli has a worldwide commercial existence in over 160 countries and has 18 production sites. It is only the one tyre manufacturer for the popular Formula One World Championship until 2023.
Final Words:
By using quality two wheeler tyres, you will be assured that you will not fall or have an accident if you drive safely. Hopefully, the given guide helps you choose the best tire for your two-wheeler vehicle.