Top 10 Major Laminate Manufacturers In India
Are you planning to add a new piece of furniture to your home or office? Well, laminates can add a touch of style and sophistication to any furniture piece, but as you already know, not all laminates are of good quality. Low-quality laminates can quickly peel, fade, or warp, ruining the appearance of your furniture and leaving you with no choice but to replace them. The Indian market is flooded with dozens of laminate manufacturers, making it overwhelming to choose the right one for your next project.
But worry not, we've got you covered! In this article, we'll introduce you to the top 10 laminate manufacturers in India in 2023. We understand that you're not looking for a list of random companies; you need quality products to make your furniture pieces stand out and of course, last longer. That's why we will delve into their manufacturing processes, product range, and reputation in the industry. So stay tuned till the end to find out more about these top laminate manufacturers in the country.
List of Top Laminate Manufacturers In India
1. AICA Laminates India Pvt Ltd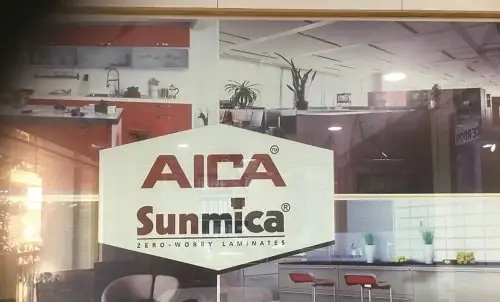 AICA Laminates India Pvt Ltd is a company from Japan that produces high-pressure and industrial laminates in India. The parent company, AICA Kogyo Company Ltd, has been making decorative high-pressure laminates in Japan since 1960. This company manufactures all of its products in Rudrapur, Uttarakhand, where they are made to meet the highest international standards, keeping the environment in mind. AICA Laminates India Pvt Ltd also offers trendy designs, colors, and textures that combine modern and futuristic approaches in its products. The company is committed to providing stylish and sustainable solutions for customers' interior design needs.
2. Century Plyboards (India) Ltd
Century Plyboards (India) Ltd is a well-known company that manufactures and sells furniture products such as Laminate, PVC, and Plywood. They have been in business since 1986 and are headquartered in Kolkata, West Bengal. They are famous for their brand Century Ply, which exports products to more than 20 countries worldwide. To ensure their customers get the best experience, Century Plyboards has set up furniture stores under the name Nesta. They have six manufacturing units across India, located in different states. They are dedicated to delivering products to their customers efficiently and have an online delivery network available in several cities, such as Ahmedabad, Hyderabad, Coimbatore, Kolkata, Pune, and Bengaluru.
3. Delta Laminates
Delta Laminates is a well-known name in the world of decorative laminates. They have been in the business since 2000 and are known for their innovative and customer-oriented approach. They take pride in providing quality services and have a manufacturing plant in Santej, Gujarat. Delta Laminates offers more than 550 designs of laminated sheets, catering to different categories. These laminates are not only beautiful but also durable, hygienic, and easy to maintain. The company has made a name for itself not only in India but also in many other countries like Singapore, Malaysia, UAE, Europe, and China. Their quality products have earned them a strong reputation in the decorative laminates industry.
4. Merino Laminates
Merino Laminates is a top-tier laminate manufacturing company that has been in the business since 1974. The company's main headquarters are in New Delhi, with another office located in Kolkata. As part of the Merino Group, this leading manufacturer and exporter specialize in producing Panels, HPL, Wall Cladding, and of course Decorative Laminate Sheets, offering a broad range of premium surface solutions products. One of their most popular digital tools is the Visualizer, which enables individuals to digitally visualize their design choices with various color schemes and designs. Merino Laminates boasts over 10,000 laminate designs, colors, textures, and finishes, ranging from Veneer to stylish glossy and matte finishes. Their products are sought-after in India and exported to over 60 countries globally.
5. Royale Touche Laminates
Royale Touche Laminates is a company that makes luxurious laminates in India. It has been around since 1978 when it started in Wadhwan, Gujarat. Royale Touche Laminates is well-known for producing top-quality laminates and being a leader in the industry. The company also has other companies that are a part of its group. Each of these companies has its own unique strengths and adds to the overall success of Royale Touche Laminates. Royale Touche Laminates is dedicated to providing its customers with the best quality, design, and service possible. This has helped make it a popular choice for architects, interior designers, and homeowners throughout India.
6. Finilex Laminates India Pvt Ltd
Finilex Laminates is a company based in Ghaziabad, Uttar Pradesh, India that's been making high-quality home furnishing items since 2001. They're known for their brand "Finilex" and offer a broad range of products like Decorative Laminates, Compacts, High-Pressure Laminate Sheets, and more. Their products are available in the North Indian regions of the country through their vast distribution network. With a focus on providing durable and stylish home furnishing items, Finilex Laminates has earned a reputation as one of the top laminate manufacturers in India.
7. Globe Panel Industries
Globe Panel Industries is a family-owned business that takes pride in manufacturing high-quality plywood and laminate products in India. They've been developing quality products since 1992 and are known for their commitment to excellence. The company's plywood products are marketed under the brand GL Plywood, which is trusted by customers for its superior quality and durable products. Globe Panel Industries has earned a reputation for providing exceptional service and innovative products, which has enabled them to carve a niche for themselves in the wood industry.
8. Greenlam Laminates
Greenlam Laminate was founded in 1993 by Saurabh Mittal and has since become one of the most well-known laminate manufacturers in India. Greenlam Laminate offers a diverse range of laminate products, such as Decorative Laminates, Block boards, Plywood, Veneer, and Laminate Flooring. The company is also known for its creative and unique products like Antibacterial Laminate Sheets that come in a wide range of colors and textures. The company has a strong presence in more than 300 cities, and its products are available through a vast network of 12,000 dealers.
9. Greenply Industries Limited
Greenply Industries has been around since 1990 and was originally called Mittal Laminates Private Limited before changing its name to Greenply Industries Limited in 1996. The company's headquarters are located in Kolkata, while its registered office is based in Tinsukia, Assam. Greenply is known for its range of high-quality interior infrastructure products, including Plywood, Block Boards, Decorative Laminates, Decorative Veneers, Medium-Density Fiberboards, Laminate Flooring, and more. It's not surprising that Greenply is a popular choice among customers since the company has a strong presence in at least 300 cities across India and has 45 branches located throughout the country.
10. Signature Laminates
Signature Laminates, a company based in Ahmedabad, is known for manufacturing decorative laminates of top-notch quality. Their reputation speaks for itself, as they export a significant portion, around 40%, of their production to various countries worldwide. In 2004, Signature Laminates created Color plus Laminates, a brand that aimed to meet the demands of the domestic market. Their manufacturing plant, located in Dist. Kheda, Village-Kanera, Gujarat, uses state-of-the-art technology to produce a broad range of decorative laminates that are widely sought after in both national and international markets.
Laminate Production FAQs
Q. How is laminate produced?
Ans: The production of laminate involves impregnating layers of paper or fabric with resin, placing them on a core material, and subjecting the stack to heat and pressure to create a durable, layered composite.
Q. What are the types of laminates available in the Indian market?
Ans: Common types include high-pressure laminate (HPL) and low-pressure laminate (LPL). HPL is known for its durability and is often used in high-traffic areas.
Q. Are there environmental considerations in laminate production?
Ans: Some laminates may contain materials that raise environmental concerns. However, there are eco-friendly options available, and the industry is increasingly adopting sustainable practices.
Q. What are the quality standards for laminates in India?
Ans: The Bureau of Indian Standards (BIS) may set standards for various types of laminates. Manufacturers often adhere to these standards to ensure product quality.
Q. How do I choose the right laminate for my project?
Ans: Consider factors such as the application, design, durability, and budget. It's also essential to check if the laminate meets relevant quality standards.
Q. What is the average lifespan of laminates?
Ans: The lifespan of laminates depends on factors like quality, maintenance, and usage. High-quality laminates, when properly cared for, can last for many years.
Q. Can laminates be recycled?
Ans: Recycling possibilities depend on the type of laminate. Some laminates can be recycled, while others may pose challenges due to the combination of materials.
Q. Are there trends in laminate designs and textures?
Ans: Yes, laminate designs and textures often follow trends in interior design. Woodgrain patterns, stone textures, and contemporary designs are popular choices.
Conclusion
Now you know where to start and which laminate brands or companies to trust when it comes to choosing the best or highest quality laminates. These top laminate manufacturers don't just manufacture fancy laminates, they offer a wide range of products for woodworking and furniture projects. Therefore we'd suggest digging a little deeper and finding out more about the product catalog of your favorite company from this list.