Top 10 Best Food Franchise Business In India
If you're looking to start a business in India, then a food franchise might just be the perfect opportunity for you. With a diverse and busy population, there is an ever-growing demand for affordable, high-quality, and of course delicious food options. And the good news is, food franchises have a proven track record of success, often achieving profitability within just a year or two. Plus, with the support and brand recognition of the parent company, franchisees can hit the ground running with a business that has a higher chance of success.
In our opinion, 2023 looks like the perfect time to start a food franchise business in India. The demand for healthy and convenient food options is only set to rise as people's lifestyles get busier. And with the low initial investment required, a food franchise is a great opportunity for those looking to start their own business. Therefore, in this article, we're going to introduce you to the top 10 best food franchise businesses in India for 2023. We'll be looking at factors such as profitability, growth potential, and brand recognition to give you an idea of which franchise might best fit you. So let's get started now.
List of Top Food Franchise Business In India
1. Haldiram's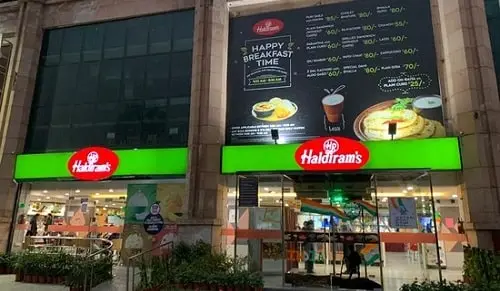 If you're an ambitious entrepreneur in India on the hunt for a golden business opportunity, look no further than Haldiram, a well-known brand in the Indian food industry. To get started, a Casual Dinner franchise requires an investment ranging from 1 to 4 crores, while a Kiosk franchise requires less capital, and a Quick Service Restaurant franchise demands 1 to 3 crores in investment. Furthermore, the franchise requires minimum operational space, starting from 75-100 square feet for Kiosks and reaching up to 2000-5000 square feet for Casual Dinners and 1000-1500 square feet for Quick Service Restaurants. Once you've decided on investing in a Haldiram franchise, you'll sign a 9-year franchise agreement with an annual 2.5% loyalty charge.
2. KFC
If you're on the lookout for a business opportunity that is both profitable and rewarding, you might want to consider a KFC franchise in India. Not only does it offer great monetary potential, but it also provides the chance to be a part of one of the most popular fast-food chains in the world. To start a KFC franchise, you'll need to invest a minimum of ₹1 to ₹2 crores and have access to a space of 1000 to 1500 square feet. To use the KFC brand name, trademarks, logos, and commercial symbols, franchisees must sign a non-compliance agreement.
3. McDonald's
McDonald's is a globally-renowned chain with over 300 stores in the country. To become a McDonald's franchisee, you'll need to meet a few requirements. Firstly, you should have a minimum of eight staff members and hold at least a graduation degree. Starting a McDonald's franchise in India will require an investment between 10 to 15 Crore rupees. This investment cost includes assets worth INR 5 Crore in cash or liquid assets. While setting up a new franchise requires a 40% down payment, for an existing one, you'll need to pay 25%. However, if you need financing, you can opt for various options for the remaining amount that you can pay back over seven years.
4. Domino's
With over 1400 stores across the country, Domino's has established a significant market share and is a popular choice for pizza lovers in India. To become a franchise owner, you'll need to invest up to INR 50 lakhs for a traditional outlet or INR 30 lakhs for a non-traditional outlet. Traditional outlets require sufficient parking space and the sale of authorized products, while non-traditional outlets can be located in airports, stadiums, or office buildings. Transitional outlets have a smaller customer base and a customized menu. Regardless of the type of outlet, franchise owners must commit to a 5 or 10-year agreement and undergo training to ensure success. Luckily, the Domino's Pizza Partners Foundation offers assistance to franchise owners.
5. Amul Scoop
Amul is a well-known Indian dairy and FMCG company that's been around since 1946, and it's one of the largest producers of milk and milk products in the country. One of the best things about Amul's ice cream franchise business opportunity is that it doesn't require a lot of money upfront. You can choose between two franchise models – a kiosk/takeaway option with a minimum investment of Rs 2 lakhs and a minimum space of 100 square feet, or a parlor option with a minimum investment of Rs 3 lakhs and a minimum space of 300 square feet. Whichever option you choose, Amul will provide you with site selection assistance, interior and setup assistance, supply of raw materials, marketing collaterals, equipment purchase assistance, and store inauguration support.
6. Subway
Since entering the Indian market in 2001, Subway has expanded to 500 franchise outlets in 68 cities and aims to grow to 2000 outlets in the coming years. They're looking for aspiring entrepreneurs to represent the brand. One of the perks of starting a Subway franchise in India is the low-cost franchising fee, making it a great opportunity for those on a budget. With the right strategies, Subway franchisees can earn up to ₹20 lakhs per month. The cost of a Subway franchise in India ranges from ₹6 lakhs to ₹11.9 lakhs, with additional charges for annual turnover, advertisement, and royalty fees. To become a Subway franchise, you need an entrepreneurial outlook, experience in the food business, and a good reputation.
7. Barbeque Nation
The popular Barbeque Nation chain has over 140 locations across the country and beyond. And what makes Barbeque Nation stand out from the competition is its unique live barbecue feature that provides an immersive dining experience for customers. To become a Barbeque Nation franchise owner, you'll need to sign a legal agreement and pay a franchise fee of ₹25 lakhs. You'll also need a minimum of 4000-5000 square feet of space for the kitchen, counter, and customer area. It's essential to have previous experience in the food and beverage sector and undergo training with the company to learn all aspects of the business.
8.  Café Coffee Day
Café Coffee Day is the ultimate coffee destination in India, and it's owned by the Coffee Day Enterprise. They offer a mouthwatering variety of coffee, tea, pastries, sandwiches, smoothies, and many other treats. To become a CCD partner, you would need a spacious ground floor area of 1000 to 1500 square feet with a minimum frontage of 25 square feet and ample parking space. Even though CCD doesn't offer a direct coffee franchise in India, teaming up with them can be hugely advantageous. Besides the brand's popularity is a significant selling point, CCD provides advertising and marketing assistance to their partners, which can help them start earning revenue immediately.
9. Pizza Hut
Pizza Hut is a well-established and well-loved pizza brand with a loyal following all over the world, making it a top choice for those interested in starting a franchise business in India. If you're selected as a franchise owner, you'll have the opportunity to run the business for a period of five years. During this time, you'll need to hire staff with a positive attitude who is always ready to serve customers with a smile. The initial investment required will depend on the type of franchise you choose. For instance, a low-cost business franchise will require an investment of approximately ₹30 lakhs, while a delivery or carryout restaurant will require around ₹15 lakhs, and a delivery-based restaurant will require roughly ₹20 lakhs.
10. Tibbs Frankie
Tibbs Frankie is a fantastic franchise opportunity for those looking to enter the Quick Service Restaurant industry. Their franchise model is perfect for those who are looking to run a clean, hygienic, and smoke-free restaurant that can serve high volumes of customers from a small space. To become a Tibbs Frankie franchise, you'll need a minimum area of 75 to 150 square feet and an investment range of 5 lakhs to 12 lakhs rupees. But the good news is that Tibbs Frankie provides comprehensive support, including operating manuals, field assistance, marketing and advertising support, training, and complete ready-to-serve material support from the base kitchen.
Conclusion
Other than these top 10 best food franchise businesses in India, there are dozens more that you can consider as per your budget and experience in the industry. In today's post, we have talked about each franchise opportunity briefly, so you have to dig a little deeper and do some of your own due diligence to find a perfect fit.