Top 10 Best Forging Companies in India
Today, the Indian steel and iron manufacturing industries are dependent on the forging process. In this process, the metals are put into a forge before being rolled in rolling mills. This process is carried out to elevate and greatly enhance the properties of the forged metal. Due to the quality and pioneering work done by forging companies in India, and joining hands with the steel and iron industries in India, the Indian forging industry is enhancing its height day by day. The companies listed here are the best-forging companies in India:
List of Top Forging Companies in India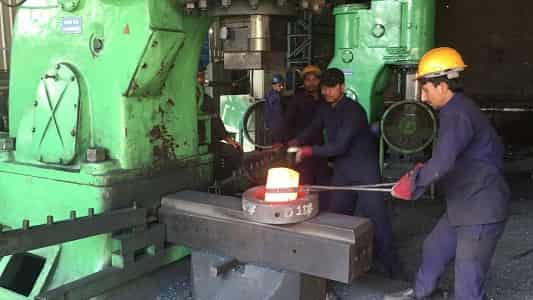 Ramkrishna forging limited
Mahindra CIE
Bharat Forge Limited
Ahmednagar Forgings
MM Forgings
Electrosteel
Jayaswal Neco
Ganesh forgings
AMTEK
Amforge
1. Ramkrishna Forging Limited
Ramakrishna Forgings Limited was established in the year 1981 as a well-known forged manufacturer and supplier. Obtaining TS 16949, ISO 14001 and OSHAS 18001 certifications, the company is leading the steel and iron manufacturing industry. They are known for closed and die forgings of Alloy Steel, Micro Alloy Steel, Stainless Steel and Carbon, produced keeping in mind the requirement of the clients. In addition to production, the supply of these products is unparalleled, which includes numerous forms such as heat treated, machined, forged and fully assembled. In addition, it has been allocating foreign and domestic market segment products such as draw gear assembly, frame key, bolster suspension, screw coupling, etc.
2. Mahindra CIE
MCIE or Mahindra CIE Automotive Limited is one of the fastest-growing forging business manufacturers as well as suppliers. They have established their roots in India as well as in Britain and Germany. MCIE is widely occupied in producing world-class forged items and mechanized, which are used for industries like construction, mining, railway, agriculture, automobile etc. With a professional staff that has in-depth knowledge of engineering and designing of multi-part automotive parts, the company assures you to provide you with robust engineering capabilities.
3. Bharat Forge Limited
Bharat Forge Limited is India's largest private forging supplier in metal fabrication. Being one of the leading technology-driven global service suppliers, the company has expanded its footprint across the globe. Established in the year 1961, the company is catering to various industries related to Automotive, Oil, Power, Mining, Aerospace, Construction and Marine. The Pune-based company has entered into a joint venture agreement with Alstom, a popular French power producer, for the production of complex turbines and generators.
4. Ahmednagar Forgings
Ahmednagar Forgings is one of the pioneering and largest incorporated element producers in the country with a robust and vast global base. Over time, it has become one of the premium class and largest forging machining and comprehensively integrated firms. The company has earned a reputation not only in the Indian auto component markets but across the globe for its operations in aluminium and iron, machining, sub assembling and forging.
5. MM Forgings
MM Forgings was established in 1946 but was introduced in 1974 as the leading forging division. It is one of the largest suppliers of forgings in India as well as internationally. The company is popular for being awarded the Engineering Export Promotion Council for Export Excellence. Over time, they have been rapidly increasing their forging properties and machining capability to meet the multiple needs of both our national and international customers.
6. Electrosteel
Electrosteel is known as India's leading and popular pipeline solutions service contributor. With an experience of over 5 decades, they have been consistently meeting the demands of the Ductile Iron Pipes of the clients both nationally and internationally. They specialize in machining which promises excellence and perfection. With India's focus on strengthening its infrastructure, Electrosteel has been able to manufacture tons of hot metal which are used in the form of Iron, Wire Rod, TMT Bar, etc.
7. Jayaswal Neco Industries Limited
Jaiswal Neco came into existence in 1976 as one of the largest providers of steel and iron as well as manufacturer in India. Being a well-known company of NECO Group of Industries, the company has gained immense popularity. The company is spread across the states of Maharashtra and Chhattisgarh to cater to the multiple needs of the Engineering Power, Automotive Structural and Fastener Industries, Railways, Bearings, and many other sectors.
8. Ganesh forgings
It is one of the popular and leading forging companies in India. Established in the year 1982, the company is exclusively passionate and dedicated to premium quality, making the firm renowned fame and name in this business. The company's expertise and engagement depend on an array of providing Forge Valves, Fittings, Flanges that are used as Automobile Spares, and much more. The prime objective of the company is customer satisfaction and product excellence. They are popular for their expert and skilled experts who are engaged in various departments such as Fetting Department, Heat Treatment Department, Grinding Department, Testing and Checking Department, Die and Tool Making Facility, Technocrat, and many more.
9. AMTEK
It is one of the popular integrated and forging component service distributors considering both domestic and international levels. With a vast and strong global presence, it has become a respected global forging and integrated machining firm. The company is recognized for promoting operations around machining, aluminium casting, forging and sub-assemblies. AMTEK is equipped with services and facilities spread overseas including the US, UK, Germany, Romania, Italy, Brazil and others.
10. Amforge
It is a renowned forging company in India and is counted as a pioneer. The company is renowned for working within the machine tool sector and types of metal forming. Its background is related to accessories and machine tools. During the year ended March 2014, as per the detailed information and analysis, the revenue and sales of Amforge were INR 3.30 Million. Being one of the largest well-known forging companies, it has a worldwide reputation.
Final Words:
The companies given above have the skills of manufacturing raw materials like stainless steel, alloy steel, carbon steel, titanium, aluminum, brass, copper etc. It is a vital element for all the industries and sectors driving the growth of India. These include construction and mining equipment, electricity, automobiles, industrial machinery, general engineering and railways.
Forging FAQs
Q. What is forging?
Ans: Forging is a manufacturing process that involves shaping metal or other materials through the application of force, typically in the form of hammer blows or compressive force. It is used to create strong and durable parts with desired shapes.
Q. What are the different types of forging processes?
Ans: There are several types of forging processes, including:
Open Die Forging: Involves shaping metal between flat dies.
Closed Die Forging (Impression Die Forging): Metal is compressed within a set of dies.
Upset Forging: Used to increase the diameter of a workpiece.
Roll Forging: Metal is shaped by passing it between rollers.
Swaging: Reduces the diameter of a workpiece by hammering.
Q. What materials can be forged?
Ans: Metals are the most common materials for forging, including steel, aluminum, copper, and titanium. Non-metallic materials can also be forged, such as ceramics and plastics.
Q. What are the advantages of forging?
Ans: Forging offers several advantages, including:
Greater strength and durability.
Better structural integrity.
Excellent resistance to fatigue and impact.
High-quality surface finish.
Material savings due to minimal waste.
Q. What industries use forging?
Ans: Forging is used in various industries, including automotive, aerospace, construction, agriculture, and manufacturing, to produce components like gears, shafts, valves, and more.
Q. Is forging the same as casting or machining?
Ans: No, forging is different from casting and machining. Casting involves pouring molten material into a mold to create a part, while machining involves removing material from a workpiece to achieve the desired shape. Forging involves shaping material through the application of force.
Q. What is the difference between hot forging and cold forging?
Ans: Hot forging is performed at elevated temperatures, typically above the recrystallization point of the material, and is used for materials like steel. Cold forging is done at or near room temperature and is suited for materials like aluminum and copper.
Q. What is the maximum size of parts that can be forged?
Ans: The size of forged parts can vary widely, from small bolts and fasteners to large crankshafts or turbine blades. The maximum size depends on the capabilities of the forging equipment and the specific material being used.
Q. Is forging an environmentally friendly process?
Ans: Forging is generally considered more environmentally friendly than some other manufacturing processes, as it produces less waste and consumes less energy. However, like any industrial process, it still has some environmental impact.
Q. What quality control measures are used in forging?
Ans: Quality control in forging typically involves inspections, testing, and certifications to ensure the parts meet specified standards for dimensions, material properties, and structural integrity.
Q. Can forged parts be customized?
Ans: Yes, forged parts can be customized to meet specific design and engineering requirements. Manufacturers can create dies and tooling to produce parts of various shapes and sizes.
Q. Are there any limitations to forging?
Ans: Forging can be limited by factors like the complexity of the part, tooling costs, and the availability of suitable equipment. Some materials are also more challenging to forge than others.