Personal loan vs Gold loan: Top facts You Should be Aware of!
A short-term financial crunch can prompt you to consider availing a loan. However, most people often struggle to make a choice that is appropriate for their financial health.
Objectively, both a Personal loan & Gold loan can be ideal for covering a wide range of expenses. However, both these types are quite distinctive in a number of ways. They have their pros and cons and you must consider these before borrowing.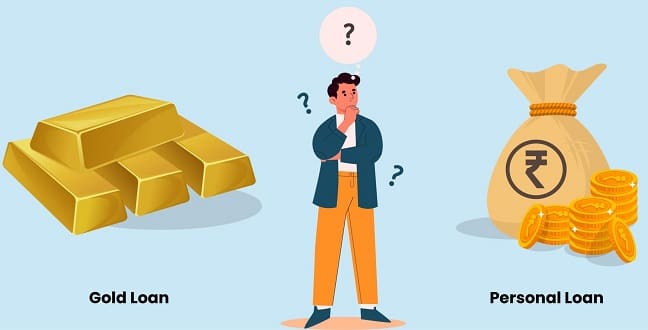 Gold Loan: Features and Eligibility
A gold loan is a secured loan wherein you get funds by pledging your gold jewellery or assets as collateral. This loan is ideal for short-term borrowing needs, and most leading lenders will offer this provision.
Some of the common features of the gold loan are:
        The tenure usually ranges between 3 and 48 months, and may even go up to 5 years.
        The interest rates range[EWW1] from 7% to 29% per annum
        The maximum sanction is usually set at ₹1.5 Crores
        The processing charges are between 0 to 2% of the loan amount
The eligibility criteria are simple, but they vary across lenders. Some of the standard requirements are:
  You must be between 18 and 75 years of age
  You must have a steady source of income (self-employed or salaried)
  Gold must be of either 18, 22, or 24 carat purity
Personal Loan: Features and Eligibility
A personal loan is an unsecured loan, allowing you to get the required funds without pledging any assets as security. Like gold loan, it is ideal for short-term needs, but it is a lot easier to avail.
In fact, modern lenders offer instant digital loans, allowing you to get funds within minutes.
Some of the main features of the personal loan are:
        The eligibility requirements are simple and uncomplicated
        The interest rates [EWW2] can range[EWW3] between 8.75% to 49.5% per annum
        The repayment tenure ranges between[EWW4] 12 months to 84 months
Unlike the gold loan, the eligibility criteria for a personal loan are very simple. Here are a few common terms:
        You must be between 21 and 60 years of age
        You must earn a steady monthly income
        You must have a CIBIL score of 750 or higher
Personal Loan vs Gold Loan: Key Differences
To help you understand the differences between a gold loan and a personal loan, consider the following table.
| | | |
| --- | --- | --- |
| Loan variables | Gold Loan | Personal Loan |
| Interest rates | Lower (7% to 29%) | Higher (8.75% to 49.5%) |
| Credit score | Low credit score is acceptable | Low credit scores may lead to rejection or a higher interest rate |
| Loan tenure | 3 to 48 months | 12 to 84 months |
| Processing charges | Minimal charges | Varies with lender |
| Loan Processing Time | Several days | Instant |
Gold loan vs personal loan: How to choose
While both options have their merits, choosing between them depends on your needs. To help you decide, here are a few scenarios to offer insight.
Scenario 1: You need a large quantum of funding
When you need a sizable amount of funds, the gold loan is the ideal choice. Here, you can get an ample sanction and the added benefit of lower interest rates too.
Scenario 2: You need funds urgently
If you need funds immediately and can't afford any delays, then a personal loan is ideal. Leading lenders have digital provisions, and you can get funds within minutes. Some may even offer pre-approved offers, making it a much better choice.
Scenario 3: You need funds without incurring additional risk
If you need funds and do not want to risk your assets, go for personal loan. You don't have to pledge security to get funding.
Armed with this information, you can easily make the most of the option you choose. Always compare the different loan offers and pick lenders that provide relaxed loan terms. To access a variety of select financial and lifestyle products or services, download the Bajaj Markets App from Google Play or the App Store. Find deals from leading lenders and get funds instantly.