Edelweiss App Advantages and Disadvantages
A well-known brand in the financial sector, Edelweiss provides a full range of trading and investing services. A mobile platform called the Edelweiss App aims to give investors convenient access to a wide variety of financial instruments. The Edelweiss software has specific benefits and drawbacks, just like every investment software. To give you a thorough grasp of the app and to assist you in determining whether it is appropriate for your financial needs, let's examine both elements in this post.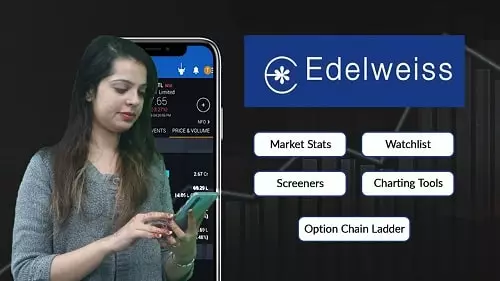 ⇒ Advantages of the Edelweiss App
Wide Array of Investment Options
A wide range of investing choices, including equities, mutual funds, commodities, bonds, and derivatives, are available through the Edelweiss App. With such a wide range of options, investors can build a portfolio that is diversified, well-balanced, and suited to their financial objectives and risk tolerance.
User-friendly and intuitive interface
The Edelweiss App has an intuitive interface that makes it easier to navigate and execute trades. Both novice and seasoned investors will have a flawless investing experience because to its user-friendly design.
Research and Analysis Tools
Users have access to a multitude of research studies, market insights, and professional analysis through Edelweiss. These priceless tools can help investors make well-informed choices, keep up with market developments, and spot prospective investment opportunities.
Edelweiss Personal Finance integration
Through this integration, users of the app have the ability to utilize financial planning and advice services. With the help of this tool, investors may better integrate their investment plans with their long-term financial objectives.
Customizable Watchlists and Alerts
For their chosen stocks or financial products, investors are able to set up personal watchlists and real-time alerts. This function provides prompt decision-making and effective investment monitoring.
Platforms offered
They offer IPO research reports, top selections, daily market news, fundamental and analytical reports, and monthly study reports with their in-depth analysis of the company stocks. For consumers who are not at ease with complete internet trading, they also provide support over the phone and in person.
Edelweiss.in
This web-based platform was created with everyday investors and traders in mind who desire a streamlined trading process which is quick and pleasant.
Terminal X3
This desktop-based trading platform offers a fast-paced trading environment and includes charting and analytical capabilities. The platform offers real-time updates and personalized advice services and is compatible with practically any browser.
Mobile Trader App
With 4.2 ratings, this app offers the fastest trading and investment experience available today, anywhere and at any moment.
Others
It is astonishing to obtain such a deal from a retail full-service broking agency. The brokerage plan Lite offers flat brokerage fee that is less expensive than the discount broking companies.
With its quick and simple features, their app is rated 4.2 stars and they offer the most recent technologically driven trading platforms.
Their thorough fundamental and analytical studies are among their most important possessions, and millions of clients have benefited from their advice.
The guided investing tool aids novice investors in making investments using a series of customised portfolios that take into account their unique financial objectives.
Beginners and new investors can learn about the basics of the stock market on the Investology learning website.
They offer both online and offline advising services, which entitles customers to trade over phone calls and one-on-one consultations with relationship managers.
Clients may benefit from obtaining home loans, investment advice, wealth management, personal finance, and numerous other financial instrument-related services from a single location in addition to the stockbroking business because they have a separate financial services provider organization.
They are authorized distributors of AMFI mutual funds.
⇒ Disadvantages of Edelweiss App
Higher Brokerage Fees:
Edelweiss might charge comparatively greater brokerage fees than some budget brokerage platforms, that can affect the profitability of regular trading or minor transactions.
Account Maintenance Fees:
For people who are passive investors or have smaller portfolios, the app's account maintenance fees may outweigh any benefits, therefore they are a source of concern.
Customer Service Response Time
Some consumers have complained that Edelweiss's customer service representatives take longer to respond, which can be annoying in emergencies or serious circumstances.
Limited International Investing Options
For investors looking to diversify their investment portfolios with foreign assets, the Edelweiss App's primary concentration on domestic investing options may be a detriment.
Accessibility and Device Compatibility
The app may not be available or compatible with all devices, which could restrict access for some users or operating systems.
Conclusion
A comprehensive platform that accommodates a variety of investment preferences is offered by the Edelweiss App. Investors can benefit greatly from its wide range of investment alternatives, user-friendly design, and research tools. Yet, potential disadvantages including increased brokerage fees, account maintenance fees, and wait periods for customer assistance should also be taken into account. Examine your risk tolerance, investing goals, and chosen investment products prior utilizing the Edelweiss App to see if it corresponds with your financial goals. To make an informed choice that best meets your financial goals, it is also crucial to compare the app with different investing platforms.