Top 10 Best Toys Manufacturers In India
The Indian toy industry is rapidly expanding, gaining recognition in the global market. The middle class's increased purchasing power and the country's economic growth have caused a shift in consumer behavior and demand for toys. However, the industry is not without its challenges, including global supply chain disruptions, the domination of Chinese imports, lack of feasible infrastructure, and financing hurdles. Nevertheless, the industry has enjoyed steady growth due to factors such as an expanding age group of 2-8-year-olds, consistent urbanization, government support, and innovative marketing strategies.
As Indian toys gain recognition for their innovation, variety, affordability, and quality, they have become increasingly popular with European and North American markets. In this article, we delve into the top 10 toy manufacturers in India in 2023, exploring their unique products and what makes them stand out in the market. So yeah, get ready to discover the exciting world of Indian toy manufacturing!
List of Top Toys Manufacturers in India
1. Khanna Toys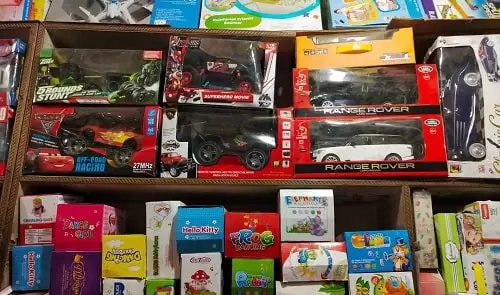 Khanna Toys is a well-known name in the toy industry, offering a wide range of toys for Gen Z kids. Established in 2008, the brand has made a name for itself by producing distinguishable toys that are loved by children across the world. One of the reasons why Khanna Toys is so popular is because of its focus on high-quality materials and modern machines. The brand understands that kids deserve the best, which is why they use only the best materials to make their toys. Whether your child loves cars, trucks, or planes, Khanna Toys has something for everyone. The brand also offers a range of kitchen toys that are perfect for little chefs in the making.
2. Masoom Playmates
Masoom Playmates is a toy manufacturing company that has been around since 1942. It started with a tin car with wheels and sold a lot of them at festivals. The brand grew over time, and in the 1980s, it introduced Betty, a 6″ doll that became a big hit. Nowadays, Masoom Playmates has expanded its production capacity and is a leading company in the toy manufacturing industry. Its dolls and toys are designed to inspire children's imagination and promote their creativity. Whether it's a doll or a toy car, Masoom Playmates has been providing children with a wide range of toys that bring joy and excitement to their lives for over 80 years.
3. Fun Zoo Toys
Fun Zoo Toys (India) is a family-owned and professionally managed company that has been creating toys that bring joy and delight since 1979. Initially known as 'Kridnak Udyog', the company was officially registered in 1992, and in 2003, a new unit was incorporated in Greater Noida. A decade later, the company rebranded itself as 'Fun Zoo Toys India'. As one of the leading manufacturers and exporters of soft toys and home furnishing items, Fun Zoo Toys takes great pride in the quality of its products. The company is committed to using non-toxic and non-hazardous materials that meet international standards. This ensures that every toy is safe for children to play with and parents can have peace of mind knowing their little ones are playing with safe toys.
4. Tripple Ess Toys
Tripple Ess Toys is a toy manufacturing company based in India that has been producing safe and high-quality toys for children for more than 25 years now. They specialize in designing miniature toys that are not only fun but also encourage experimental learning among children. In addition to creating toys for children, Tripple Ess Toys also develops promotional and educational toys for organizations and retail stores. Their expertise in manufacturing plastic components for the automobile industry further adds to their skills in creating toys that are both durable and long-lasting.
5. Centy Toys
Centy Toys is a well-known Indian toy manufacturing company that has been producing miniature models of automobiles since 1990. They were the first brand to introduce scale models of Indian vehicles in the market, which was an innovative idea at the time. Centy Toys prides itself on using modern manufacturing techniques and quality assurance processes to maintain its position as a leading toy manufacturing brand in India. They have an in-house Design to Manufacturing Solution that helps them keep up with the latest trends and product innovations in the toy and automotive industries. The company's attention to detail and commitment to excellence is evident in the high-quality and accurate miniature models they produce.
6. Aditi Toys
Aditi Toys is a top-notch toy manufacturing company that caters to the needs of customers both in India and abroad. They are known for their unique and innovative toy ideas that make them stand out from their competitors in the industry. They take pride in being certified and producing hygienic miniatures, ensuring that parents can trust the safety and cleanliness of their children's toys. Aditi Toys is the perfect choice for parents looking for premium-quality toys for their little ones. With an array of products suitable for children of all ages, Aditi Toys has earned a reputation as a reliable name in the toy industry.
7. FunSkool India
FunSkool India has earned a reputation for producing toys that are not only of exceptional quality but also safe for children to play with. As one of the pioneers in the toy manufacturing industry, Fun Skool has always been at the forefront of innovation, introducing new and exciting toys that capture the imagination of children across the country. And another cool fact is that Fun Skool has one of the largest production areas in India.
8. Funride & Dash Toys
Funride & Dash Toys is a top-tier toy manufacturing company located in India that values the importance of childhood memories. This company firmly believes that toys are not just for playtime, but rather they hold sentimental value as a reminder of the carefree days of childhood. Funride & Dash Toys offers an extensive range of high-quality toys that cater to children's diverse interests. Whether it's classic toys or the latest innovations, they have something for every child.
9. ToyZone
For over two decades, ToyZone has been delighting children and parents alike with its wide range of high-quality toys. Since it first began operations in 2002, the company has built up a reputation as one of India's premier toy manufacturers, all thanks to its state-of-the-art manufacturing unit. With cutting-edge research and development facilities and an advanced tool room, the company is always pushing the boundaries of what's possible in the world of toy-making. This means that parents can trust ToyZone to provide their children with toys that are not only fun and engaging but also educational and stimulating.
10. Forever Toy Maker Pvt Ltd
Forever Toymaker Pvt. Ltd is one of the top manufacturers of playground equipment for children in Delhi, and they're known for producing a wide variety of products that are both indoor and outdoor-friendly. From swings to battery-operated cars, electric bikes, play mats, ride-on toys, and even kids' trash cans, they've got it all. What sets Forever Toymaker apart is the team of highly skilled and expert professionals they have on board. They're passionate about creating the best possible products for kids, and they're dedicated to designing, manufacturing, and delivering items of the highest quality.
Conclusion
There you have it. Yes, there are other dozens of toy manufacturers in India, but these 10 hold the top spots. So whether you are a parent or just someone looking to invest in toy companies, we hope that our post was an insightful one for you.