Top 10 Best Soya Chunks Companies In India
When you're building a healthy diet plan for yourself, you would consider soya chunks as a great source of protein, carbohydrates, and fiber. Or you could be someone who likes soya chunks because of their awesome spongy and meaty texture. correct? No matter if you're a health or fitness enthusiast or not, we can't deny the fact that soya chunks are a great source of food in terms of nutritional and health benefits. But not just any type of soya chunks. You know that the quality of soya chunks also matters a lot.
And when you head to the market to buy a pack of soya chunks, you'll be bombarded with so many options. It is pretty easy to be overwhelmed by so many options. Therefore, we are here to help you with that. We've compiled a list of the top 10 best soya chunks companies/brands in India. So you can pick one, or try each of their products and see what suits your taste, nutritional value needs, and budget. So let's get going. Shall we?
List of Best Soya Chunks Companies In India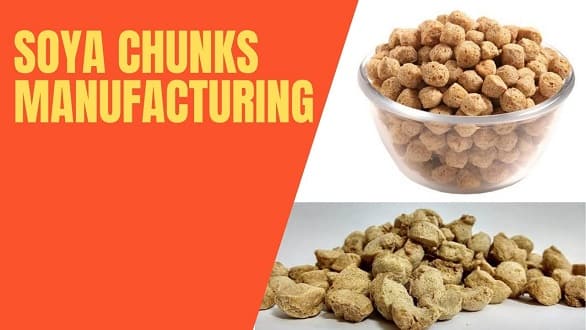 1. Fortune
When it comes to the most trusted brands in India, you'll find the Fortune brand's name on every list. They sell a variety of consumer products in India with the highest possible quality to please the customers. Talking about their soya chunks because they don't use the over-processed soya chunks, so the protein content is much higher in their final product. Despite the high amount of protein, their packaging of 1 kg of soya chunks seems like a great deal as compared to the other options on the market.
2. Saffola
Saffola is known for its quality products such as culinary oil, oats, noodles, peanut butter, and, of course, soya chunks. It's hard to deny the fact that Saffola offers the best quality soya chunks in the Indian market. They offer soya chunks with higher protein and low-fat content, also because of the juicy but soft texture, when you're preparing them as a gravy dish, the taste would be on another level. Again, the pricing is quite affordable and similar to Fortune, so it's hard to ignore.
3. Nutrela
Ruchi Soya is a well-known and trusted brand for edible oil in India, and Nutrela is a sub-brand that offers the best soya products in the Indian market. When it comes to the taste and easy-to-prepare soya chunks, Nutrela is definitely one of the best brands to offer such a product. There's everything, like higher protein content, awesome texture, incredible taste, easy to prepare, and more importantly, quite affordable, so it would be unfair if you ignore Nutrela's soya chunks without even trying them at least once.
4. Urban Platter
Urban Platter is a fairly new brand in the grocery item market, but this brand has become quite popular in India because of its incredible value-for-money yet high-quality products. Talking about their Urban Platter's soya chunks, they're one of the highest-rated brands online for soya chunks. True, Urban Platter's soya chunks are not the cheapest on the market, but the quality is unrivaled by any other brand in India.
5. Pushp
Pushp started as the spice or masala brand in India, and it has gained a fair bit of trust and brand value since then. The turning point came when they explored consumer products or other grocery items. The trust of Indian customers in Pushp has skyrocketed since then. Talking about their soya chunks, so it's not the most affordable option, but you're certainly getting the tastiest and best soya chunks on the market in terms of nutritional value.
6. Vama
Vama is an Indian-origin brand, and its history goes way back to 1973 when it first came into existence. Speaking of the soya chunks they offer, we would definitely categorize them as a premium product with no compromise in the quality sector. If you're someone looking for natural, fat-free soya chunks, Vama is offering exactly that. They've soya chunks with 52% of protein, and are 99% fat-free, along with other nutrients such as minerals and vitamins.
7. Ervin
Ervin is another fairly new brand as compared to other big players in the market, but this brand certainly has the potential. There are multiple consumer products offered by Ervin, including their popular soya chunks. If you're on a budget and you regularly want to consume soya chunks as per your diet plan, then Ervin's soya chunks are the way to go. They're affordable, gluten-free, high in protein, and include other essential minerals and vitamins.
8. GoShudh
A Rajasthani brand made it into the top soya chunks brands because of their high-quality product while still keeping the price below the radar. It is not just the soya chunks that GoShudh sells; there are a variety of consumer products, so visit their website and you'll find all the other products listed there.
9. Vedaka
Vedaka is an Amazon India brand, specifically for grocery items. Now, Amazon is a huge market, and they have data about what people are searching for and what would be a product that would suit their customers' needs. And this is how they come up with their own products that just slide right in there by offering great value for money but still containing the quality aspect. This is the same case with their soya chunks; they're just perfect for a regular person's use.
10. Savour India
Savour India Private Ltd. has been in the market since 1996. They've gained popularity and trust in India over the years. They offer a variety of food and grocery items at good price points, the same is with their soya chunks. Their special Nutri Soya Granules are perfect in every aspect because of their interesting texture, good nutritional value, lower fat content, and all that for an affordable price. Well, that sounds like a great deal.
So these were the top 10 best soya chunks companies or brands in India that you can look for when buying soya chunks next time, nearby or online. We made sure to keep it all about the quality of the soya chunks rather than the brand's history and all of that. It's because, in the end, what matters is the end product and customer satisfaction.