Top 10 Best Glass Companies In India
Many archeological discoveries show that glass-making was quite popular even three thousand years ago. However, in the modern era, glass manufacturing is something that many sectors or industries rely on. Automotive, construction, consumer electronics, and electronics are the niches that heavily depend upon glass manufacturing. Just look around, you'll probably find some items made out of glass, or have glass material in them. Directly or indirectly, most sectors or industries rely on glass manufacturing companies, thus there is always a high demand for glass in the Indian market.
In India, there are literally dozens of glass companies competing with each other in the market. And of course, not each of them is capable of holding the title of the best glass company in India. That's why we are here with a detailed list of the top 10 best glass companies in India. Keep on reading this post, and we guarantee that you'd learn a lot about glass manufacturing and glass companies in general. So stay tuned.
List of Top Glass Manufacturing Companies In India
1. Asahi India Glass Limited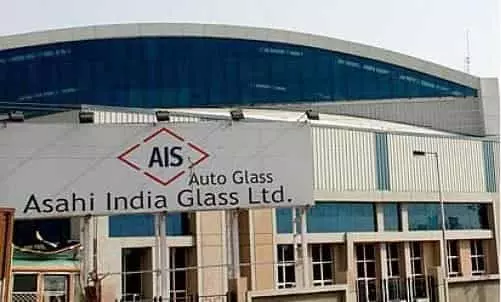 At the very top spot, we want to introduce you to the largest and top glass manufacturing company in India. It is no other than Asahi India Glass Limited. Asahi India Glass Limited aka AIS was established in 1984, but it is true that before that a few other glass manufacturing companies existed in India. However, within a few years of its establishment, AIS became the market leader and started gaining quite a lot of popularity. This company primarily focuses on making or manufacturing Automotive glass including windscreens, sidelights, acoustic glass, etc. Along with that, they also manufacture many glass items for architectural purposes.
2. Borosil Ltd.
Before AIS even existed, Borosil was the glass manufacturer in India that was a market leader. Before the 1980s, Borosil had a huge market share in this particular domain, however, the case is a little different now because there is high competition in the glass manufacturing market of India. It is not just the Indian market that Borosil dominates, this company has an impressive global presence. Along with being a well-established glass company, Borosil also sells home and kitchen appliances in India. And you'd be surprised to know that Borosil is India's first and only solar glass manufacturing company. Because of the in-house production of solar glass, solar panels become more affordable for the end customer.
3. Saint-Gobain
On our list today, Saint-Gobain is by far the oldest established company that is also a market leader when it comes to glass manufacturing. Saint-Gobain started off its journey back in 1665, more than 350 years ago, and back then it was one of the top construction materials suppliers or providers. This is actually a France-origin company, but it became a worldwide seller or manufacturer of construction materials, glass, ceramics, plastics, etc. Saint-Gobain has been around in the Indian market for quite some time now, and it has gained quite a lot of experience by selling its products in India. However, primarily in India, people know Saint-Gobain as this renowned glass manufacturing company.
4. Fuso Glass India Pvt Ltd
Fuso Glass India Pvt Ltd is a rising name in the glass processing or manufacturing market. Compared to the previously mentioned glass companies on our list, Fuso Glass India Pvt Ltd is pretty underrated in India. However, after its establishment in 1964, it soon started capturing a significant market share in India in the glass manufacturing industry. And it's been successful at that because this company started focusing on architectural glass manufacturing, unlike the other companies that were primarily focusing on automotive glass processing and manufacturing.
5. La Opala RG Limited
Utensil sets and crockery are the primary specializations of La Opala RG Ltd. And if you want to level up your dining experience, then consider buying utensil sets and crockery items from this company. If you are also passionate about home decor, and especially about decorative glassware pieces, then La Opala RG Ltd's product collection will certainly impress you. Since this company makes some finest glassware pieces that's why it also has glass manufacturing facilities in India. It is actually the craftsmanship of this company that makes the look and feel of its products quite premium. That's the prime reason why many people prefer this company of other glassware, utensil, and crockery sellers.
6. Hindusthan National Glass & Industries Ltd
The very first automated glass manufacturing facility was launched by Hindusthan National Glass & Industries Ltd aka HNG. Before the 1980s there was too much rush in the glass manufacturing market in India, and companies like HNG and Borosil had a significant market share. However, since the beginning of the 2000s, the popularity of HNG started decreasing because of too much competition. It is true that from 2005 to 2010, HNG made a profit growth jump of more than 25% which was quite impressive at that time. Since this company has more than seven decades of experience in India, it stands a chance against some huge worldwide market leaders in terms of glass making.
7. AGI Greenpac
When searching for the best glass companies in India, you'd stumble upon some blog posts or lists which may not include the name of AGI Greenpac company. But in reality, it deserves to be on this list because of the quality of its manufactured glass. We admit that AGI Greenpac is quite underrated, however, it does have the potential to keep up with the rising competition. And that is because AGI Greenpac isn't a newly established glass manufacturer, it was established way back in 1960.
8. Haldyn Glass Limited
Based in Gujarat Haldyn Glass Limited is an Indian-origin glass manufacturing company that started off quite recently. Compared to some most renowned companies on our list today, it may seem that Haldyn Glass Ltd doesn't stand a chance. But in reality, it is one of the most productive and top-notch glass-producing companies in India. That is why Haldyn Glass Limited was able to sign a contract with a renowned brand like Amul.
9. Empire Industries Ltd.
From the very beginning, Empire Industries' primary business model was dyeing and bleaching. However, it was in 1975 when this company was acquired by Killick Industries Limited and thus started off as a glass processing and manufacturing company. Since then, everything has changed for Empire Industries, and now it is known as this big and famous glass company in India.
10. PGP Glass (Piramal Glass)
The pharmaceutical industry of India heavily relies on companies that make top-notch glass packaging products. PGP Glass aka Piramal Glass is one such company that fulfills this high demand of pharmaceutical companies. That is why PGP Glass has multiple manufacturing and processing facilities in India to keep up with such high demand for their end products. This company is famous, old, and big enough to be listed in today's post. And it certainly deserved to be added to the list of the top 10 best glass companies in India.
Conclusion
No matter how high the demand is for glass-made items or products in India, these are the top companies that are responsible to keep up with the constantly rising demand. Speculations are that the demand for glass packaging and other items will rise in the future because the Indian government is coming up with new rules and regulations on the use of plastic.