Top 10 Best Franchise In India Under 5 Lakhs Rs
Imagine being your own boss and building your business with the backing of an established brand and proven business model. From quick-service restaurants to mobile repair services, there's a franchise opportunity out there for everyone. In recent years, the franchise business model has become increasingly popular in India, offering individuals the chance to start their own businesses with minimal investment and maximum support. In short, with minimal investment, you can skip the hassle of starting a business from scratch and hit the ground running.
And the good news is that you don't need to break the bank to start your own franchise business. In this article, we'll be exploring the 10 Best Franchises in India under 5 lakhs for 2023. From food and beverage to education and retail, we'll provide you with insights into the most profitable and exciting franchise opportunities available in India with a minimum investment of 5 lakhs or less. So, let us guide you through the top 10 franchise opportunities that will allow you to turn your entrepreneurial dreams into reality. Let's now get to the exciting part.
List of Top Franchise Under 5 Lakh Rs. in India
1. Delhivery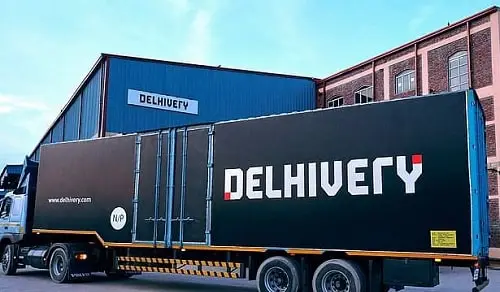 In today's world, online shopping has become increasingly popular, leading to high demand for courier and logistics businesses. One such prominent logistics provider in India is Delhivery. To start a Delhivery franchise, applicants must be at least 21 years old, have completed 10th and 12th grade, have experience in the courier service business, have a proper space for the franchise, and have no criminal history. The franchise requires a commercial space of 300 to 500 square feet for the office and 200 to 500 square feet for vehicle parking. The initial investment required to start a Delhivery franchise is between 50,000 and 200,000 Indian rupees, with a total investment of 6-8 lakh rupees for a full setup.
2. Amul Milk
Amul is one of the most popular franchise businesses in India and offers several benefits to business owners. Amul franchise price in India isn't set in stone – it varies depending on where your outlet is located and which products you want to sell. The cost of an Amul franchise parlor can be anywhere from ₹1.5 lakhs to ₹6 lakhs. As an Amul franchise, you'll be able to sell all Amul products, but you'll only sell them through your franchise. If you have a shop that's between 100 and 300 square meters, you can open an Amul outlet in places like schools, markets, hospitals, and train stations. How much money you make from your franchise will depend on factors like operational costs, staff costs, and where your shop is located.
3. Mother Dairy
Mother Dairy is one of the top and strong competitors of dairy brands like Amul. However, it still isn't as popular as Amul, but the marketing team of Mother Dairy is trying to get there soon. And by providing franchisees to the people of India, they're getting somewhat close to that. As of now, Mother Dairy is expanding its operations rapidly across the country, and you can certainly benefit from that by opening a franchisee. It'll just cost a minimum of 5 lakh rupees to get started, however for a proper setup, you'll need to invest at least 10 lakh rupees.
4. TATA 1mg
Tata 1mg franchise is a digital healthcare platform that connects customers with registered medical suppliers in various localities. This franchise model generates revenue through the online delivery of medicines and also offers other healthcare services like medical equipment, lab testing, and consultation. In today's fast-paced world, people can easily book online consultations to avoid travel and unnecessary contact with others. This feature is particularly useful during a pandemic situation as it helps prevent overcrowding of medical stores. Investing in a Tata 1mg franchise requires only a small initial investment of ₹10,000. This makes it a perfect opportunity for small investors to start a business and earn a commission.
5. Dr. Lal Pathlabs (Collection Unit)
Dr. Lal PathLabs is a private pathology laboratory chain that has built a solid reputation in India, and they're inviting entrepreneurs to join their franchise network. With a minimal investment, franchisees can potentially earn over 1 lakh per month. With over 60 years of experience, Dr. Lal PathLabs offers over 3500 tests, catering to the diverse needs of its over 12 million satisfied customers across the country. Aspiring franchisees will require a minimum space of 100 sq. ft. and an investment of Rs. 50,000 to Rs. 2 lakhs. The franchise/brand fee is Rs. 50,000 as a security deposit, and commission rates range from 25% to 30%.
6. Asian Paints
As the largest paint company in India and operating in 15 countries globally, Asian Paints has a reputation you can trust. Their focus is on manufacturing, selling, and distributing paints, coatings, home decor products, and related services. It's important to note that Asian Paints operates solely through a direct dealership model and doesn't offer distributorship or sub-dealership options. The total investment required for an Asian Paints dealership is around 6 to 8 lakhs in India, however, the 5 lakhs investment will be needed for a commercial space to open a shop. Despite the initial investment, an Asian Paints dealership offers a profit margin of approximately 3% to 8% on sales, along with cash discounts and RPBT discounts for dealers.
7. Amazon Logistics/Delivery
With Amazon controlling over 30% of India's e-commerce market and projected to increase its share to 35% by 2023, owning an Amazon Delivery franchise is a promising investment. As a franchise owner, you can earn a profit of 50,000 to 2 lakh Rupees and receive a 10% commission on sales. With an average return on investment (ROI) of 25%, you can expect to recoup your investment within 6 to 8 months. To get started, you'll need a prime location of 200 to 300 square feet for product delivery. Along with this, you'll need to provide documentation that demonstrates your educational and entrepreneurial background, and have at least 10-20 delivery vans, and 8 workers to handle operations effectively.
8. Bajaj Electronics Service Partner
If you're a dealer/shopkeeper with an owned shop of at least 600 sq feet, you might be interested in becoming a franchisee for Bajaj World. As an authorized franchisee, you'll benefit from associating directly with the brand, and your old shop will be transformed into a beautiful showroom designed by a professional agency. While you'll be responsible for the civil work of the showroom (including the flooring, roof, walls, front glass door, and infrastructure), the company will share 50% of the furniture fixture cost estimate. The minimum investment requirement is around 5 lakh rupees.
9. SastaSundar
Have you heard of SastaSundar, now known as Flipkart Health+? It's a digital pharmacy and healthcare company based in Kolkata, West Bengal, India that's been around since 2014. The founder, Mr. Banwari Mittal, wanted to make high-quality medicinal products more affordable, and that's exactly what SastaSundar is known for today. But did you know that you can also become a SastaSundar franchise owner? Not only can you sell SastaSundar products, but you can also deal with OTC products from well-known brands like Patanjali and Himalaya. All you need is a minimum of 120 square feet of space and an initial investment of between Rs. 50,000 to 2 lakh.
10. Thyrocare
If you're looking for a profitable business opportunity in the diagnostic industry, then Thyrocare is your perfect partner. With over 26 years of experience, they are the fastest-growing diagnostic giant in India and are leading the way in Covid testing labs. Their lab processes are top-notch, being accredited, barcoded, software-driven, and approved by NABL & ICMR, ensuring that they maintain the highest standards. The requirements for becoming a franchisee are simple and straightforward, with a clean and well-furnished infrastructure of 200-400 square feet and the franchise fee is 2 lakh rupees, which is a small investment for such a lucrative business opportunity.
Conclusion
That'll do it. Now even if you don't have tens of lakhs rupees, you can still start with reputed franchisees in India with a 5 lakh rupees investment or even less than that. Now it is your turn to dig a little deeper and find out more about the requirements, this way you'll have a better understanding of how you should approach these particular franchise opportunities in India.