Upstox App Advantages and Disadvantages
Upstox provides trading services for commodities and stocks. it is an online discount broker app. It constitutes one of the 200 or more significant stock brokers with retail trading services who have been in operation for ten to twenty-five years. The business offers trading in a variety of markets, including equities, commodities, currencies, futures, and choices, through its Upstox Pro Mobile trading and Upstox Pro Web platforms.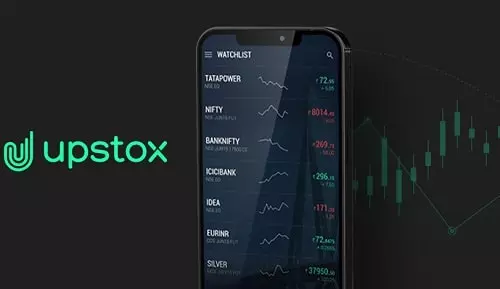 Advantages of Upstox App
User-Friendly Interface: Upstox provides a well-designed and user-friendly mobile app which allows both novice and seasoned traders to easily navigate via different features and handle trades.
Charting Tools: Upstox app has sophisticated charting tools and indicators for technical analysis that enable users to conduct in-depth technical research and identify potential possibilities for trading.
Real-Time Market Data: By providing real-time market data, such as charts, stock quotes, and news updates, the app ensures that traders are given access to the most recent information necessary to make wise decisions.
Numerous Products and Segments: It enables trading in a variety of products and segments, including equities, currencies, commodities, and derivatives, providing investors with a wide choice of possibilities. It also encourages investing in mutual funds and initial public offerings.
Low Brokerage Fees: Upstox is a popular alternative for traders on a budget because of its reasonable brokerage fees.
Paperless Account Opening: By providing a seamless paperless account opening process, the software helps users save time and effort.
2-step Authentication: Upstox uses two-factor authentication and encryption technologies to safeguard accounts, ensuring a high level of protection for user data and transactions.
Order Types: The program offers a range of order types, including limit, market, and stop-loss orders, allowing traders additional freedom in how they manage their trades.
Others
The customer is not required to pay brokerage for deliverable trades in the stock section thanks to Upstox's brokerage-free trading option.
Compatible with both Android and iOS smartphones is a mobile trading app. No software makes use of fees.
The following orders are accessible online and mobile: Cover Order and Bracket Order (BO), After Market Order (AMO), or One cancels Other (OCO).
Mobile and Web versions of Stop-Loss (SL)/ Trailing-Stop are both available.
Multiple indicators are available on the Upstox Pro Web Trading Platform to monitor markets while on the go.
Using the AmiBroker AFL editor, Upstox Bridge for AmiBroker enables you to code and carry out your trading strategy.
Using programming languages like Python, the Upstox Developer Console enables you to create your
Customers can check Greeks, open interest, assess volatility, and performance indicators.
Thousands of mutual funds are available for investment on the Upstox Mutual Funds Platform. Lumpsum or SIP (Systematic Investment Plan) patterns of investment are available to investors.
Customers who require larger leverage can purchase the Priority Brokerage Plan (a paid plan), which is best suited for intraday trading.
Disadvantages of Upstox App
Customer service: Some consumers have complained about difficulties contacting support staff during busy market hours and delays in getting their questions answered by Upstox's customer care.
Technical Issues: Upstox may encounter technical issues and downtime, such as any other trading software, which can be irritating for traders, particularly during erratic market conditions.
Limited Research and Analysis: Although Upstox offers real-time market data, its analysis and research capabilities may be somewhat simple in comparison to those of other platforms, which could prove a disadvantage for traders who depend heavily on these kinds of tools.
Leverage and Margin: Upstox might have limitations on leverage and margin, which might hinder some trading methods for experienced traders.
Limited Tutorials and Educational Resources: The program may lack extensive tutorials and educational resources, which makes it less suited for new traders who need in-depth learning materials.
Availability and Regulations: The availability of Upstox can be restricted in some areas, and it may not be subject to regulation by all of the major financial authorities, which could cause some investors some anxiety.
Third-Party Integration: Th software might not work seamlessly with some third-party platforms or tools, which could be a hassle for traders who choose to use particular add-ons.
High Internet Dependence: Upstox depends heavily on a steady internet connection because it is a mobile trading app. Traders may experience difficulties placing trades or gaining access to market data in the absence of a dependable connection.
Others
Delivery transactions are not eligible for other margin funding. The Upstox Priority Pack account offers more leverage.
Upstox doesn't provide monthly trading plans that are limitless.
An additional $20 (brokerage plus $20 call and trade fee) is levied for each executed order.
For intraday square MIS/BO/CO orders that are not squared off by the customer, an extra $20 per executed order is levied.
doesn't offer stock recommendations or ideas.
The company doesn't offer 3-in-1 accounts because it doesn't offer banking services.
There isn't a 24/7 customer care line.
Since January 2018, Upstox NRI Trading and Demat accounts are no longer available.
The API is not accessible through Upstox for automated trading.
Conclusion
Always keep in mind that every trading software has pros and cons that might change depending on the tastes and needs of the user. It's crucial to conduct research and take into account your unique requirements prior to using Upstox or a different trading platform to make an informed choice.